Learn how to SUP from certified instructors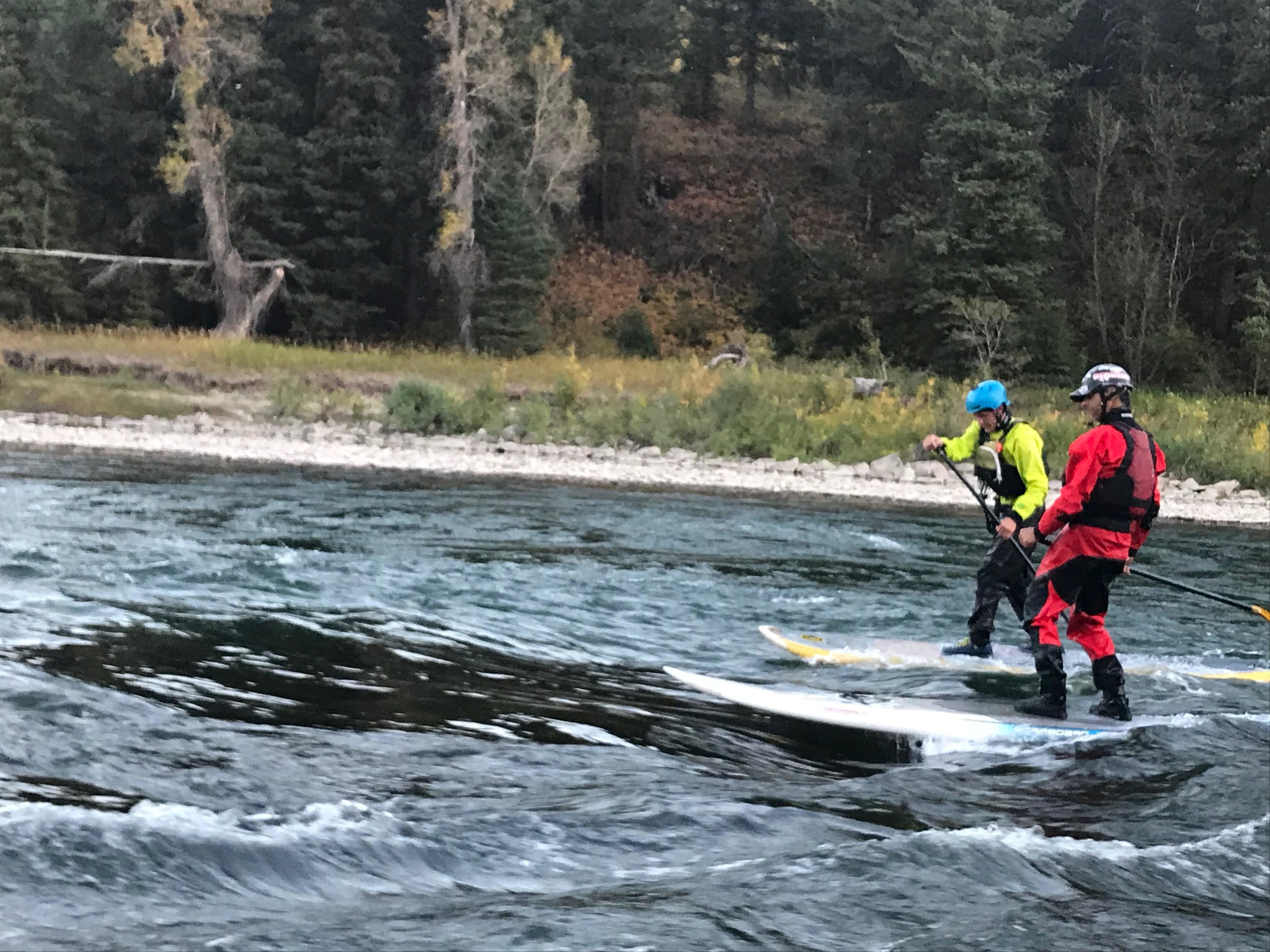 Stand Up Paddle Boarding (SUP)
Stand Up Paddle Boarding is the fastest-growing paddlesport in the world. Come out with our experienced instructors and learn how much fun it is! The teaching progression is similar to that of kayak or canoeing with a twist of surfing. We offer lessons on both the lakes and the rivers in the area.
River Lessons
Our instructors will start out with the lake progression on a flat section of the river. You will next learn board tilts so you can carve in and out of the currents on the river. Before heading down the river your instructor will give you a thorough SUP safety talk and make sure you are comfortable with self-rescue and river language. You will progress downstream with your instructor learning how to peel in and out of eddies first on your knees and then standing up. Learning to ferry across the river is the last skill needed before you are ready to start surfing every river wave you can find! You don't need huge waves to have fun on a SUP, you will be entertained with every little eddy, wave, or riffle in the river. As you travel down 1-9+ miles downstream you will get to practice your skills through the Class I-II rapids of the very scenic Snake River.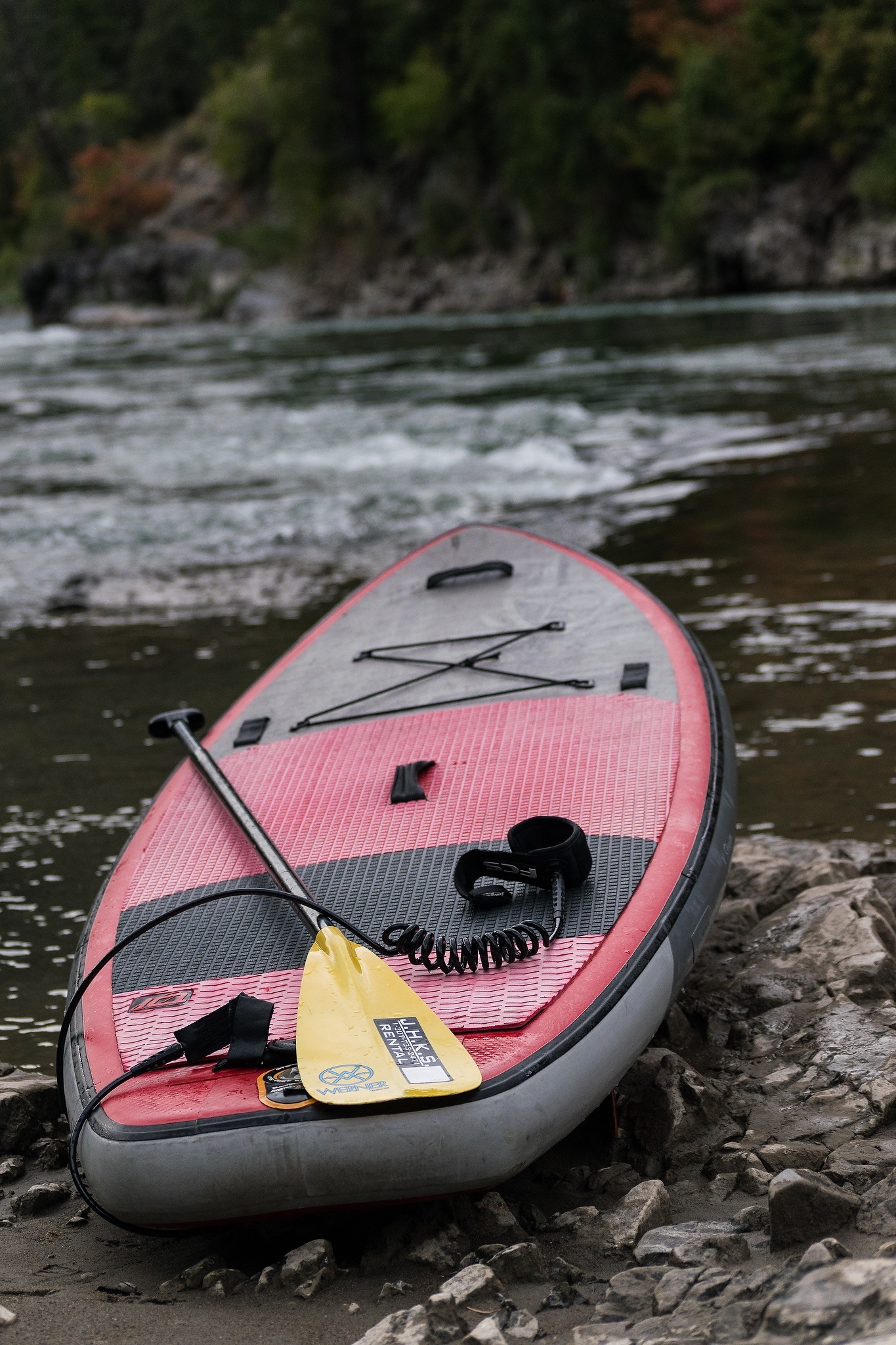 Gear
All gear is included in lesson prices. Our SUP School has a full fleet of the latest SUP's and paddles from Starboard, Boardworks, NRS, HALA, SOL, Werner, and more. We also have drysuits and full wetsuits to keep you warm at all times of year. Here is a list of things for you to bring that are useful for your journey:
Swim Gear. 
Water bottle, if it has an attachment that is a plus. 
Snacks, full-day trips get lunch but if you have something you want to bring it is not a problem
Change of clothing for the takeout.
Sun protection, glasses, sunscreen, hats ect.,
Availability
All of our trips are Custom. We can cater any trip to your group's ability and goals for the day. We offer something for all skill levels of Stand Up Paddleboarder. Private lessons available every day of the week from April-October.
Private Instruction Pricing
Half Day
8:30-1PM or 2 PM- 6:30 PM
| Price Per Person | Price |
| --- | --- |
| One Person | $410 |
| Two People | $275 |
| Three People | $195 |
| Four - Six People | $175 |
| Seven or More | $160 |
Full Day
9:00 AM - 5:00 PM (Lunch included)
| Price Per Person | Price |
| --- | --- |
| One Person | $490 |
| Two People | $325 |
| Three People | $245 |
| Four - Six People | $205 |
| Seven or More | $185 |
For more information call (307)733-2471 or write 

[email protected]
RENDEZVOUS RIVER SPORTS IS HONORED TO BE AN AUTHORIZED CONCESSIONER OF GRAND TETON NATIONAL PARK and A PERMITEE OF THE BRIDGER TETON NATIONAL FOREST
Rendezvous River Sports is a strong Steward of our natural environment and strives to operate sustainably everyday.
Click the links below to find out how you can make a difference.