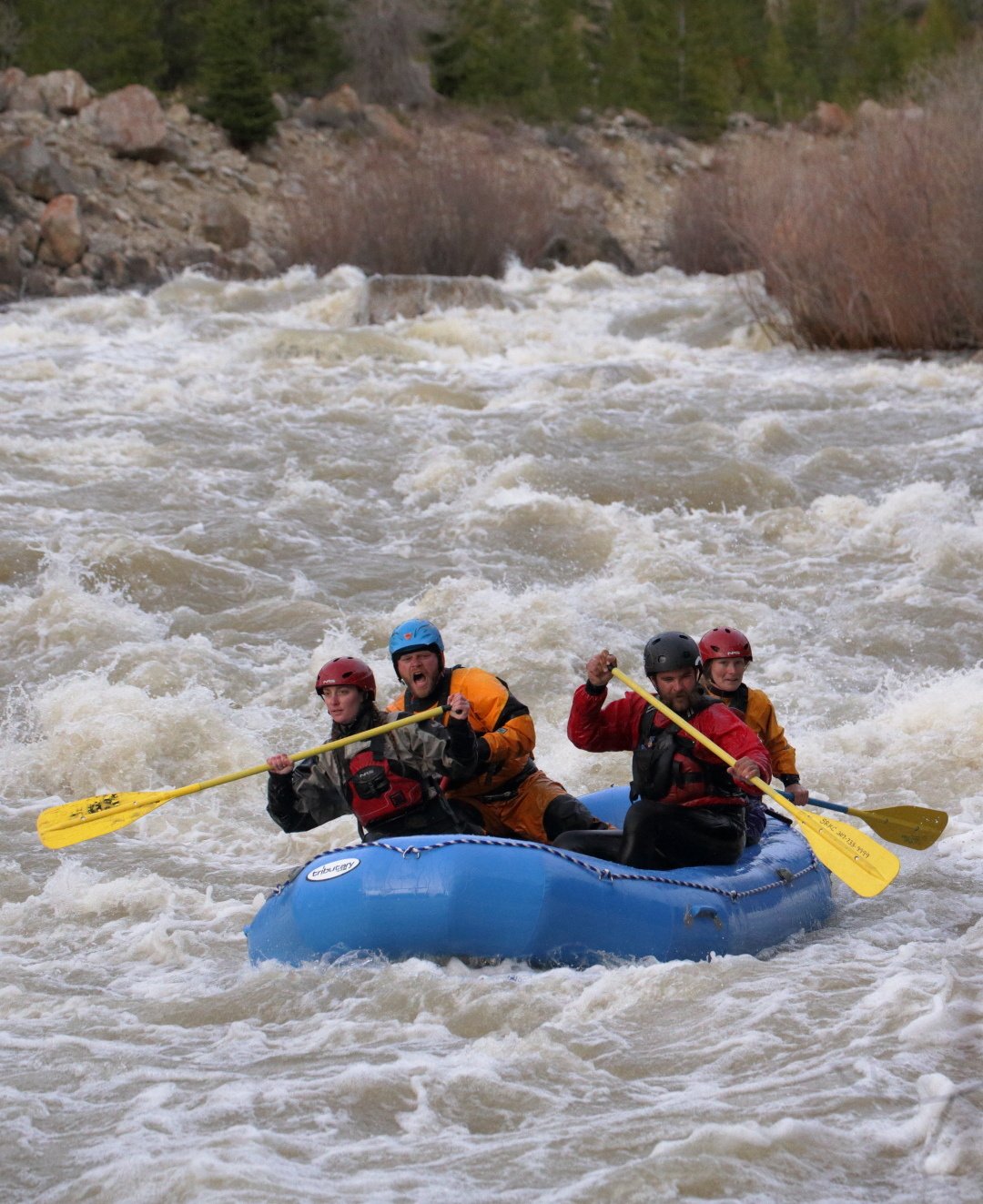 Rafting Down the Gros Venture River, North of Jackson WY
Gros Ventre River, Slide Lake to the Park Boundary
Season
Runoff - May to late July
Class
III+/IV- @ 0-4ft. IV above 4ft.
Gauge
Slide Lake Outlet or Zenith
Length
3 miles
Shuttle
3 miles - easy to run or bike.
Distance from Rendezvous River Sports to the take-out: 19 miles
Description: Flowing from the calm waters of Slide Lake the Gros Ventre River tumbles down to the valley floor through debris deposited from the Gros Ventre Slide. This geologically young section of the river has beautiful scenery and is full of sharp rocks. At lower levels, it offers great technical Class III boulder dodging and eddy hopping. When the water is high it offers stomping big water, Class IV boating. At levels of four feet and above good eddies are hard to come by - hang on and enjoy the ride. View the river on the drive up from a paved turn out about a mile before the put-in.
Directions: Drive north from Jackson on Hwy 191/89. Shortly after you cross the Gros Ventre River, turn right at the junction towards Kelly. Follow this road northeast past the Gros Ventre Campground and the town of Kelly where the road turns left. Drive north another mile and turn right on a paved road toward Kelly Warm Springs and Atherton Creek campground. Follow this road east about two miles until you reach the Gros Ventre River at the Forest/Park Boundary. This is the take-out. Continue upriver two and a half miles to Taylor Ranch Road Follow this dirt road to the river and put-in. Please be considerate of landowners. Do not block any drives or cross private land.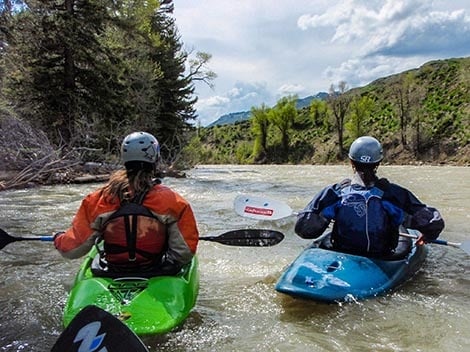 The Hoback is a great river to Play Boat at any level!
Hoback River, Granite Creek to the Snake River
Season
April to August
Class
II+/III- at lower water III at high water
Gauge
None
Length
12 miles (shorter & longer runs possible)
Shuttle
12 miles – not easy to find rides
Distance from Rendezvous River Sports to the take-out: 13 miles
Description: The Hoback River flows alongside Hwy 191 through beautiful Hoback Canyon. It has sections of swift-moving flat water as well as many rapids with plentiful eddies. There are also good surf waves and play spots. Paddlers should be wary of fallen trees and pinned logs, particularly when floating under several small bridges that span the river. For a shorter run, start at Stinking Springs or No Name Campground. For a longer trip put-in at Kozy Campground or Bondurant.
Directions: Drive south from Jackson on Hwy 89/191. At Hoback Jct. slow down, veer right and take your first left BEFORE crossing the Snake River. Follow this road past Hoback River Resort to the river. This is the take-out. It is also possible to paddle into the Snake River and take-out at Astoria (See South Park to Astoria). To reach the put-in, return to the highway and turn right. Head southeast on Hwy 191 about 12 miles until you reach the Granite Creek Road. Turn left and park at the confluence. Put-in on Granite Creek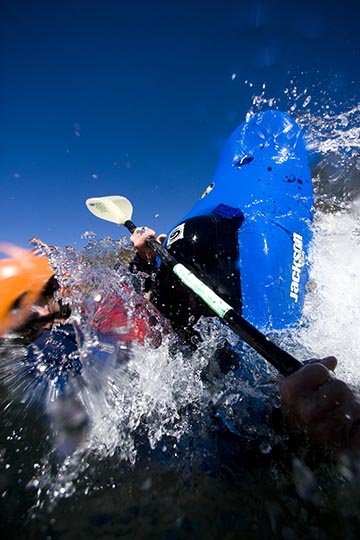 An awesome section to Boof and make Eddie Turns.
Granite Creek, Granite Falls to the Hoback River
Season
Runoff - May to July
Class
III-
Gauge
None
Length
4.5 miles
Shuttle
4.5 miles - OK to bike or drive two cars.
Distance from Rendezvous River Sports to the take-out: 25 miles
Description: Granite Creek is a small mountain stream that runs fast and cold during high water. Below Granite Falls the creek meanders through wildflowers meadows with constant views of snow-capped mountains. Then the creek picks up speed, offering excellent eddy hopping. Kayakers should be careful to stay upright, as the creek is shallow. For a unique day trip, run Granite Creek to the Hoback, then the Hoback into the Snake River taking out at Astoria.
Directions: Follow directions for the Hoback River to reach the take-out on Granite Creek Road. To reach the put-in, follow the signs on Granite Creek Road until you reach Granite Falls. This is a sight in itself. Begin comfortably below the falls. To shorten the run and eliminate some flat water put-in two miles below Granite Falls.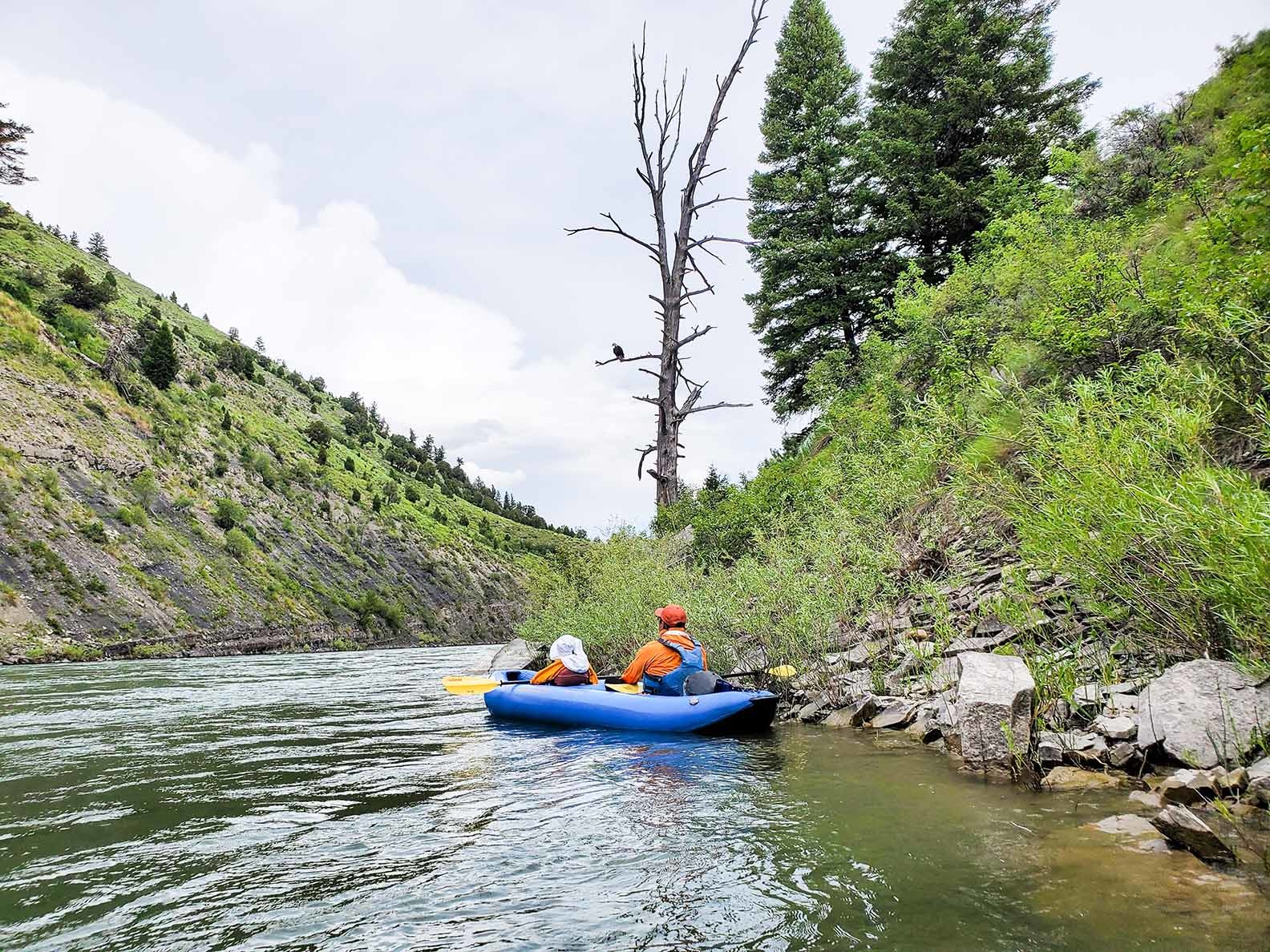 A more relaxed section but it still provides great practice and wonderful views.
Snake River, South Park to Astoria Hot Springs
Season
All year
Class
II (very strong currents exist during high water)
Gauge
At Swinging Bridge or Alpine
Length
9 miles
Shuttle
9 miles – easy to find rides during the summer
Distance from Rendezvous River Sports to the put-in: seven miles
Description: This stretch of river is part of the famous Pole, Pedal, Paddle race. While most of this run is not whitewater, it is a great place for entry-level boaters to practice their skills. The river is deep, wide and forgiving, yet the eddy lines are powerful. At flows above 12,000 CFS at Alpine inexperienced boaters should take-out above Hoback. During high water, the section below Hoback offers incredible play-boating. Eddy lines abound for stern squirts, enders and mystery move. This section also offers prime surfing at Kings Wave. Paddlers wishing a short and excellent play run should put-in at Hoback.
Directions: To reach the put-in drive seven miles south of Jackson on Hwy 89/191. Turn right before crossing the Snake River at South Park. This is the first bridge south of town; it is a hard right turn. To start at Hoback see Hoback River, take-out. To reach the take-out at Astoria, continue south on 89/191. Veer right at Hoback Junction, staying on Hwy 89. Turn left before the bridge at Astoria Hot Springs.
Surfing the Lunch Counter Wave While a Group of Rafters Pass by
Snake River, West Table to Sheep Gulch
Season
March to November
Class
III (Sections of Class IV at high water)
Gauge
Alpine
Length
8 miles
Shuttle
8 miles - easy to find rides during the summer
Distance from Rendezvous River Sports to the put-in: 26 miles
Description: This is the Alpine Canyon section of the Snake. No matter what the water level, there is always something to surf on this stretch. At prime flows (6-12,000 cfs) world class surfing and hole riding are found at Taco Hole and Lunch Counter Rapid. At high flows (13-40,000) many of the usual surf waves flatten out but some huge features form. Boaters should be wary of floating debris and killer holes like Three Oar Deal. Check out the river map at the put-in.
Directions: Drive south of Jackson on Hwy 191/89, veer right on Hwy 89 at Hoback Junction and drive 12.5 miles to West Table Creek boat access. Kayakers should use the small boat put-in, immediately downstream of the public boat ramp. The take-out is eight miles downstream at Sheep Gulch river access. Kayakers should use the small boat take-out immediately downstream of the boat ramps. This is a popular run which can be quite crowded during midsummer. Please be considerate of other floaters particularly at river access points.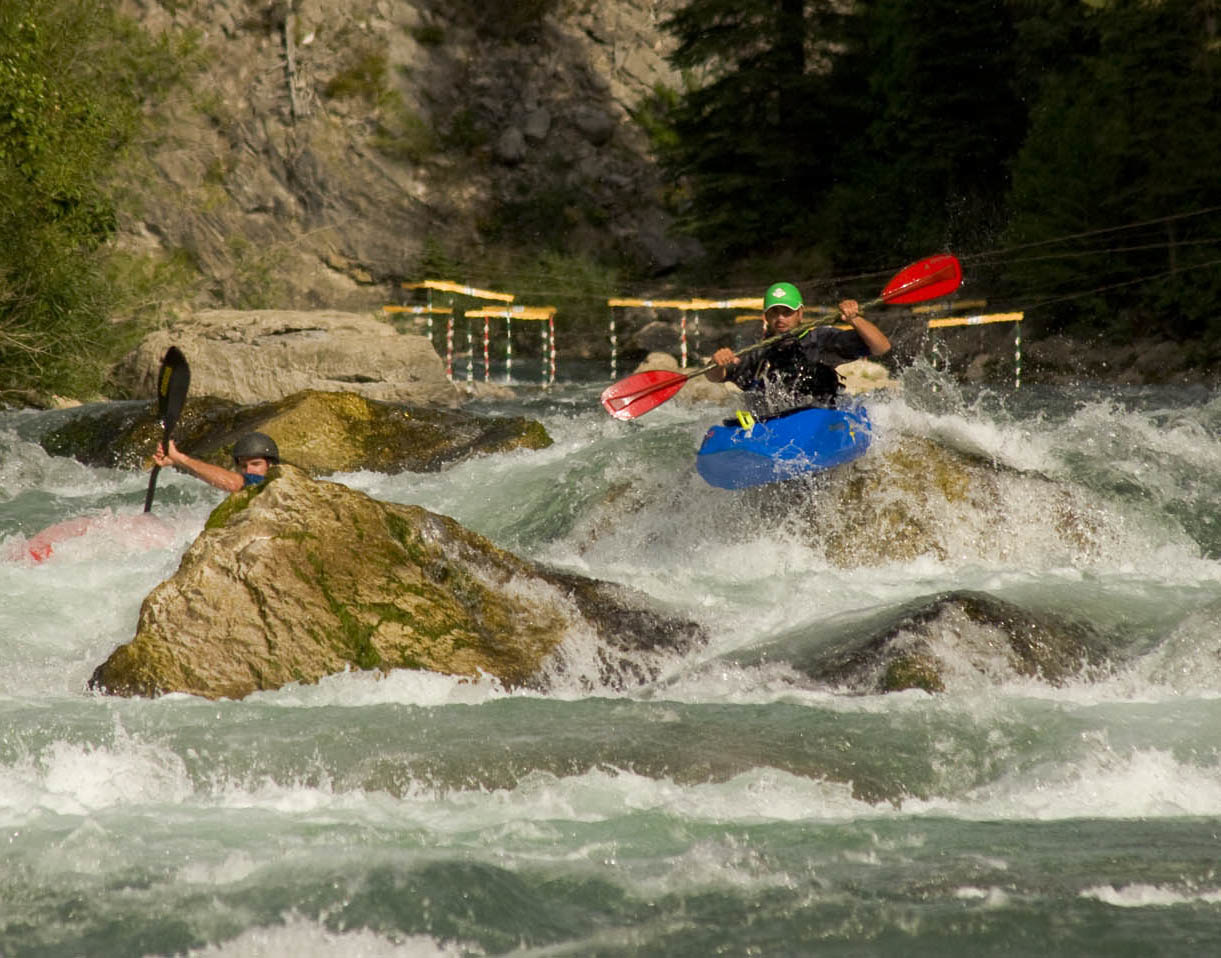 Two Paddlers Playing on their lines for the Grey's River Race
Greys River, Squaw Creek to Bridge Campground
Season
April to November
Class
III/IV @ 2-4ft. IV/V- @ 4-7ft.
Gauge
At Bridge Campground
Length
2 miles
Shuttle
2 miles – easy to run or bike.
Distance from Rendezvous River Sports to the take-out: 40 miles
Description: At lower flows, the Greys runs green and there are hundreds of eddies. This river gets progressively harder both as you travel downstream and at high water levels. There are three distinct fairly technical rapids along with other spots to boulder hop and play. If you don't like the first rapid, get out before the second. Subsequently, if you don't like the second get out above Snaggletooth. This drop is easily scouted from the road. There are many routes through this boulder-strewn rapid. During high water, the entire run turns into a raging brown torrent with scarcely a rock to be seen. Boaters should beware of potential log jams throughout and a nasty mid-channel hole as you near the take-out.

Directions: Drive south of Jackson on Hwy 191/89, veer right at Hoback Junction on Hwy 89 and drive twenty-three miles to Alpine Junction. Turn left and cross the Snake River. Then turn left onto Greys River Road. This road soon turns to dirt. The first bridge you get to is at Bridge Campground. This is the take-out. Continue up Greys River Road and scout Snaggletooth along the way. This should always be scouted as new log jams often form. In two miles you will reach Squaw Creek Campground. Deep snow may limit access in early spring. Note: There is a little bit more whitewater upstream both on the Greys and Little Greys Rivers.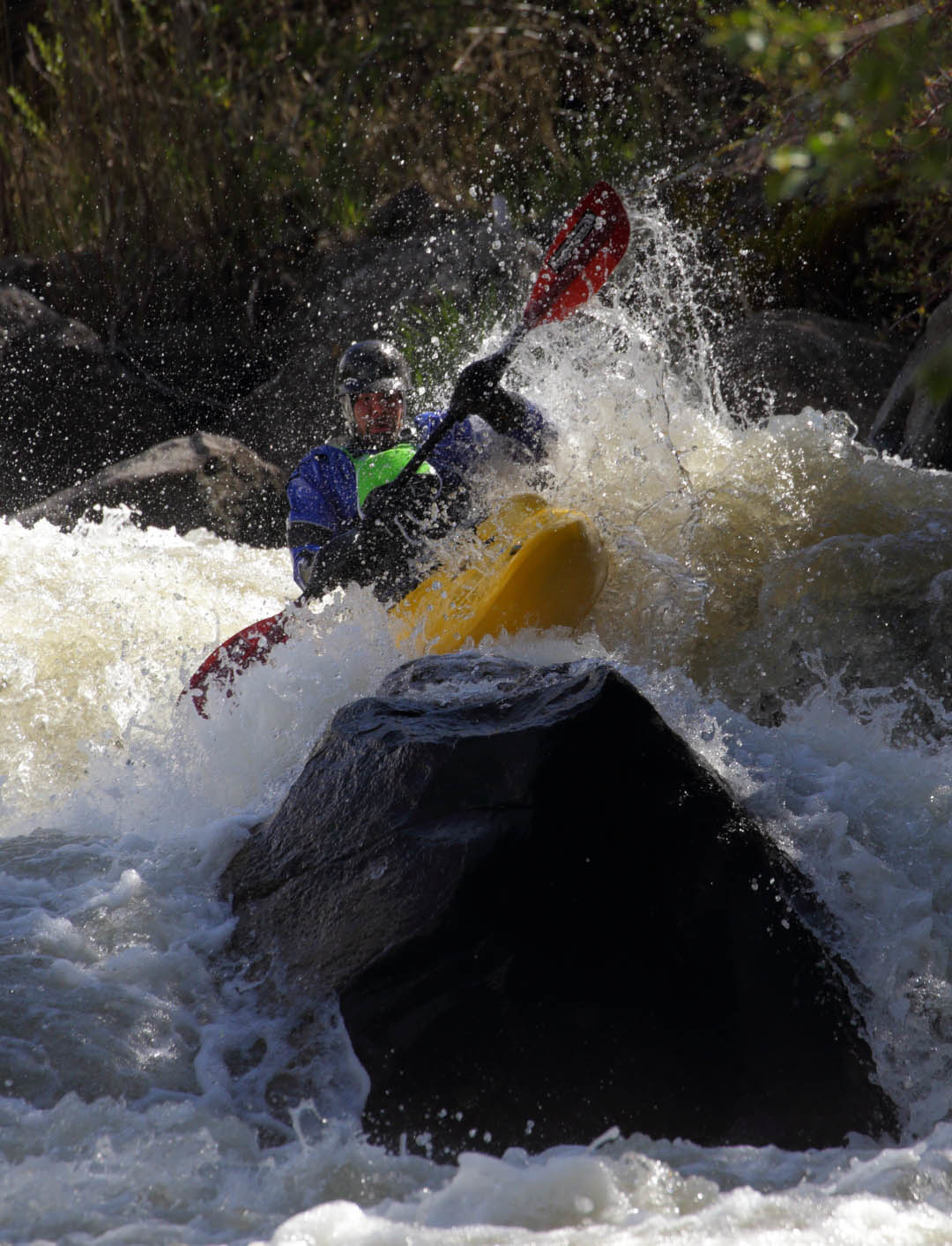 Coach Max Pelosi Boofing a rock, Somewhere on the Teton River
Teton River, Highway 33 to Felt Power Plant
Season
April to October
Class
IV-V
Gauge
Driggs and St. Anthony
Length
7 miles
Shuttle
Approximately 14 miles. Drive two cars.
Distance from Rendezvous River Sports to the put-in: 45 miles
Description: The Teton River Canyon lies hidden amidst rolling potato fields. At most flows, the river offers technical Class IV whitewater with one Class V drop at Boulder Dam. This jumble of rocks is easy to notice and is scouted or portaged on the left. At high flows, the Teton is a wild roller coaster ride. There is always the chance of log jams on this river. The river completely flattens out near the Felt Power Plant and its diversion dam. The dam can be run at favorable water levels. The suggested take-out is above the dam as it is easy to follow the trail up and out of the canyon. For a longer run continue on to France Boat Ramp (see Bitch Creek take-out). If you do this, a long portage of the entire power plant diversion is suggested.
Directions: Drive west of Jackson on Wyoming Hwy 22 over Teton Pass into Victor, Idaho. Drive straight north through Victor on what will now be Idaho Hwy 33. Follow 33 through Driggs and Tetonia. After leaving Tetonia the highway bends west. Follow it four miles to the river. To reach the take-out, return east on Hwy 33. In Two and a half miles turn left on Hwy 32 and head north towards Ashton. In three miles the highway crosses Badger Creek; a short distance further is Power Plant Road. Turn left and follow this rolling gravel road past several barns and houses. Please be courteous and drive slowly as you will cross private land. Everyone is at risk of losing this access point if visiting boaters infuriate the landowners. Follow the road until it ends at the Felt Power Plant.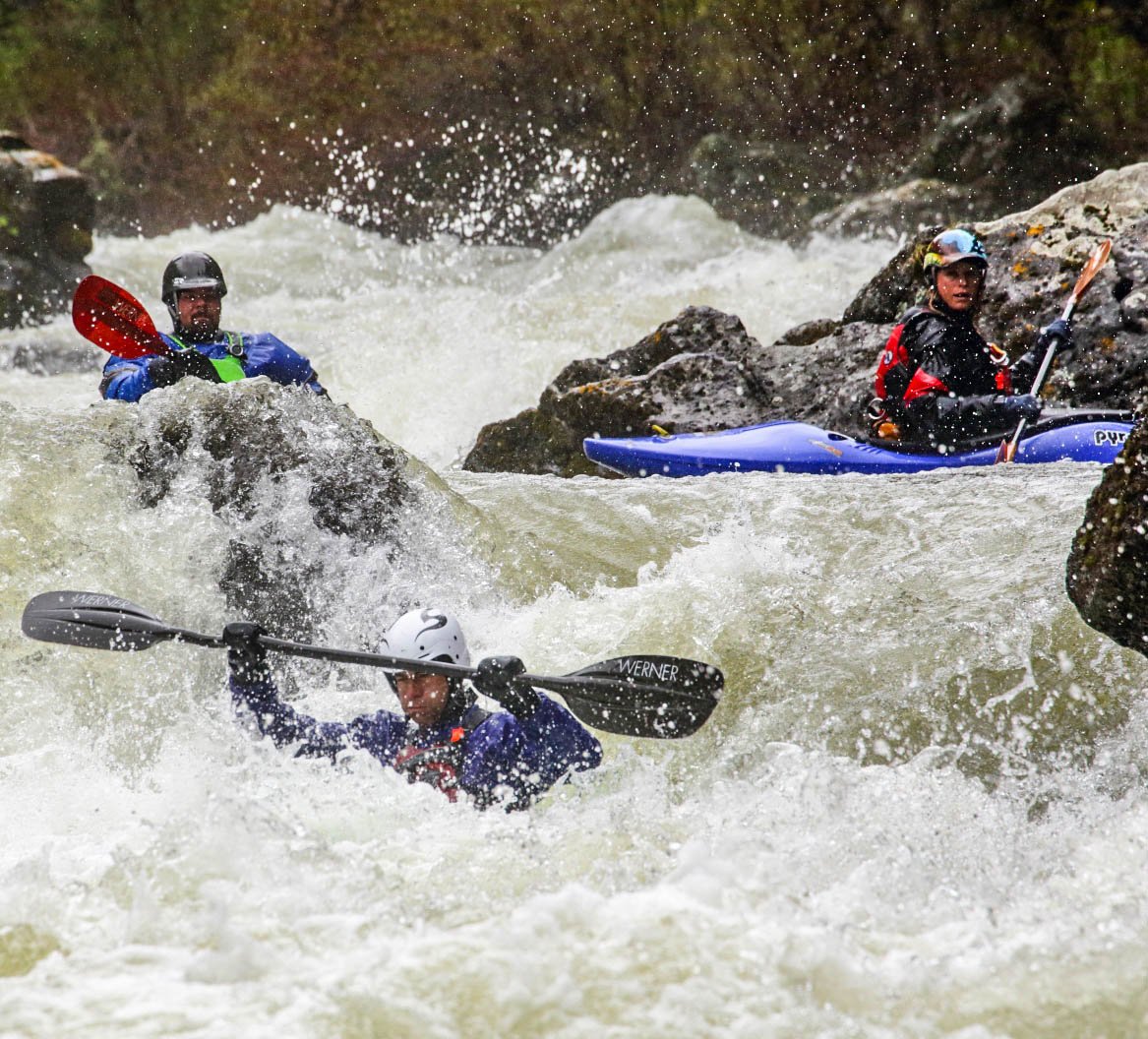 Running Bitch Creek with Max, Aaron, and Anika
Bitch Creek, Highway 32 Bridge to France Boat Ramp
Season
Runoff - May to July
Class
III/IV(V)
Gauge
On the old bridge at the put-in (hopefully it is above 3 ft.)
Length
13 miles
Shuttle
12 miles. Drive two cars.
Distance from Rendezvous River Sports to the put-in: 49 miles
Description: Bitch Creek flows through a beautiful basalt canyon, a striking contrast to the potato fields at the top. A full day should be allotted for this run. At medium flows, Bitch Creek offers mostly Class III/IV boulder dodging with blind corners and the constant danger of log jams. There are two Class V rapids, Driscoll's Drop and Roscoe's Rock. These are both easy to scout or portage. After the confluence with the Teton, the canyon opens up. There are five small rapids and mostly very flat water until the take-out on river right (after the second set of power lines cross the river). This run is not recommended at low water. If it appears bony at the put-in, it will be throughout the run. At high water, things get fairly continuous and there are always new logs moving downstream.
Directions: To reach the put-in follow directions to the take-out of Teton River but do not turn left on Power Plant Road. Instead, continue north on Hwy 32 until you reach a bridge. The put-in is on the south side of the bridge. Please be considerate. This is private land. (There is no sign for Bitch Creek but there is a Fremont County sign at the bridge.) To reach the take-out, cross the creek and continue north on 32. Shortly after passing a big Pillsbury grain silo the road begins to curve right and go up a hill. Turn left on the gravel road before the hill. Drive west until the road forks; stay left. Follow this fork down into the canyon and over the crumbling boat ramp that serviced the old reservoir. Follow the double track a short way down to the river. This last part can be tricky if wet.
For more information call (307)733-2471 or write 

[email protected]
Jackson Hole Kayak School is a permittee of the Bridger-Teton National Forest and an equal opportunity provider
Rendezvous River Sports is a practitioner of Stewardship and Sustainability.
Click the links below to find out how you can make a difference.