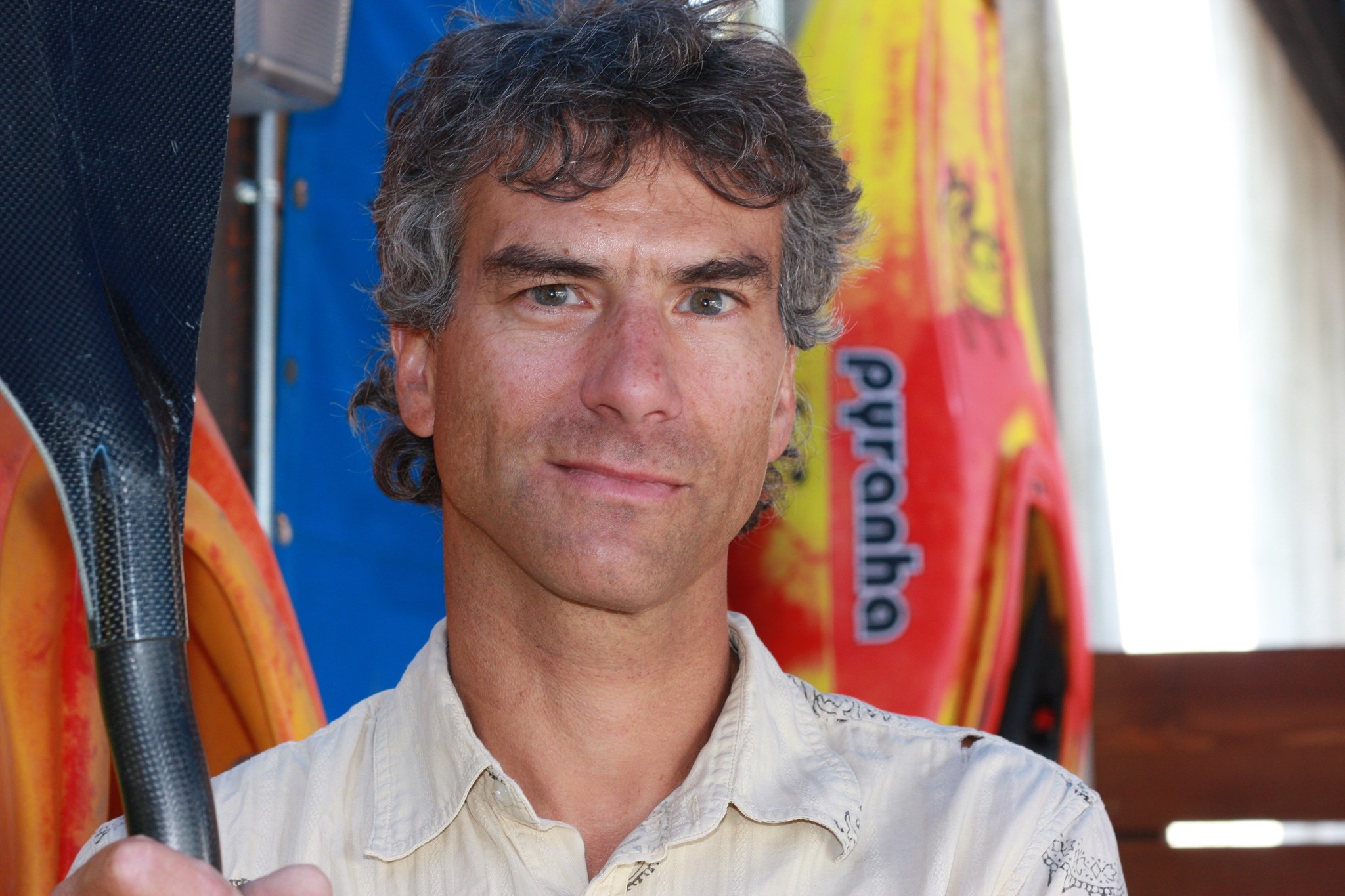 Aaron Pruzan Owner, Rendezvous River Sports
Welcome!
To the world of paddle sports and to Jackson Hole, Wyoming. We appreciate your interest and look forward to sharing our passion for paddle sports and this beautiful valley. Whether you are young or old, it's your first time or you're a veteran paddler our experienced instructors and knowledgeable sales staff will help maximize your fun on the water. Jackson Hole offers a full spectrum of paddling and rafting opportunities. From the tranquil waters of Shoshone Lake to the crashing waves of Snake River Canyon, we have a course or tour for you. Now in our 25th year of operation, we at Rendezvous River Sports and Jackson Hole Kayak School are excited for another paddling season. I hope you join us.
Aaron Pruzan,
Owner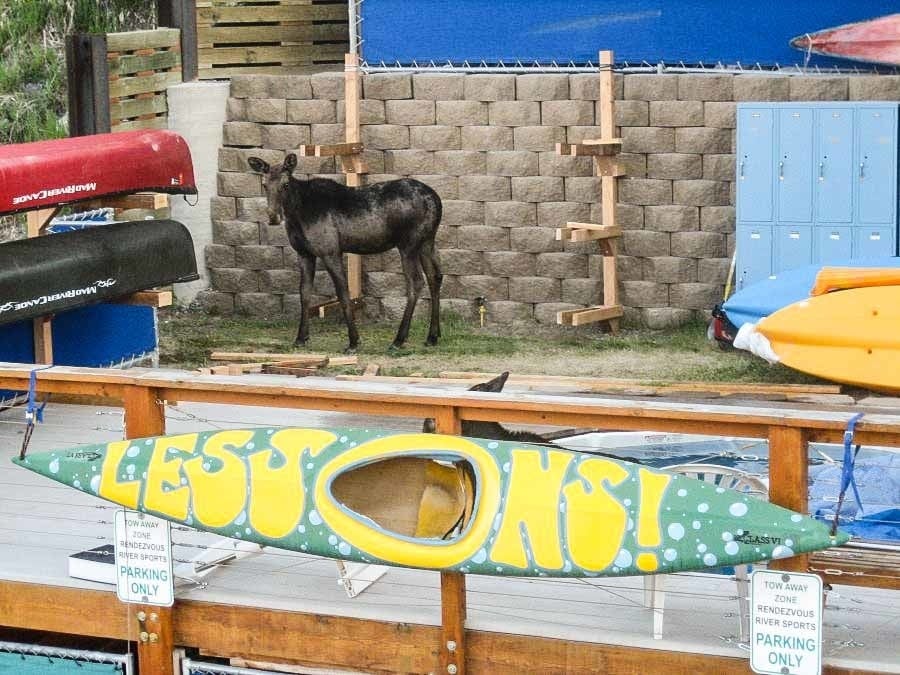 A curious Moose on the Old Rendezvous Deck
Jackson Hole
Surrounded by five mountain ranges Jackson Hole has long been famous for the amazing Grand Tetons, an abundance of wildlife and the best skiing west of the Alps. More recently the valley has received wide recognition as one of the country's top kayaking destinations. With many large and small lakes - and rivers ranging in difficulty from class I through V - this recognition is well deserved.
Skiing, kayaking, Stand Up Paddling and rafting are some of many Jackson Hole activities. Hiking, climbing, horseback riding, mountain biking, para-gliding, viewing wildlife and relaxing amidst the mountain scenery add to the list. The valley also offers a wide variety of shops, as well as Wyoming's finest dining and nightlife. Accommodations range from camping in Bridger-Teton National Forest or Grand Teton National Park to first class service at one of the valley's resorts. There are also numerous unique B & B's and hotels. If you want to get away from it all, you've come to the right place: Wyoming is our nation's least populated state. Solitude and empty spaces are easy to find.
Reaching Jackson Hole is part of the fun. If you are driving into the valley you will travel over scenic Teton or Togwotee pass, through Snake River or Hoback canyons, or through Yellowstone and Grand Teton National Parks. The Jackson Hole Airport is serviced by Delta, Continental, Horizon and American Airlines. Please call if you have questions about travel, accommodations, booking other activities, or the Jackson Hole area. We would be happy to assist you with your travel plans.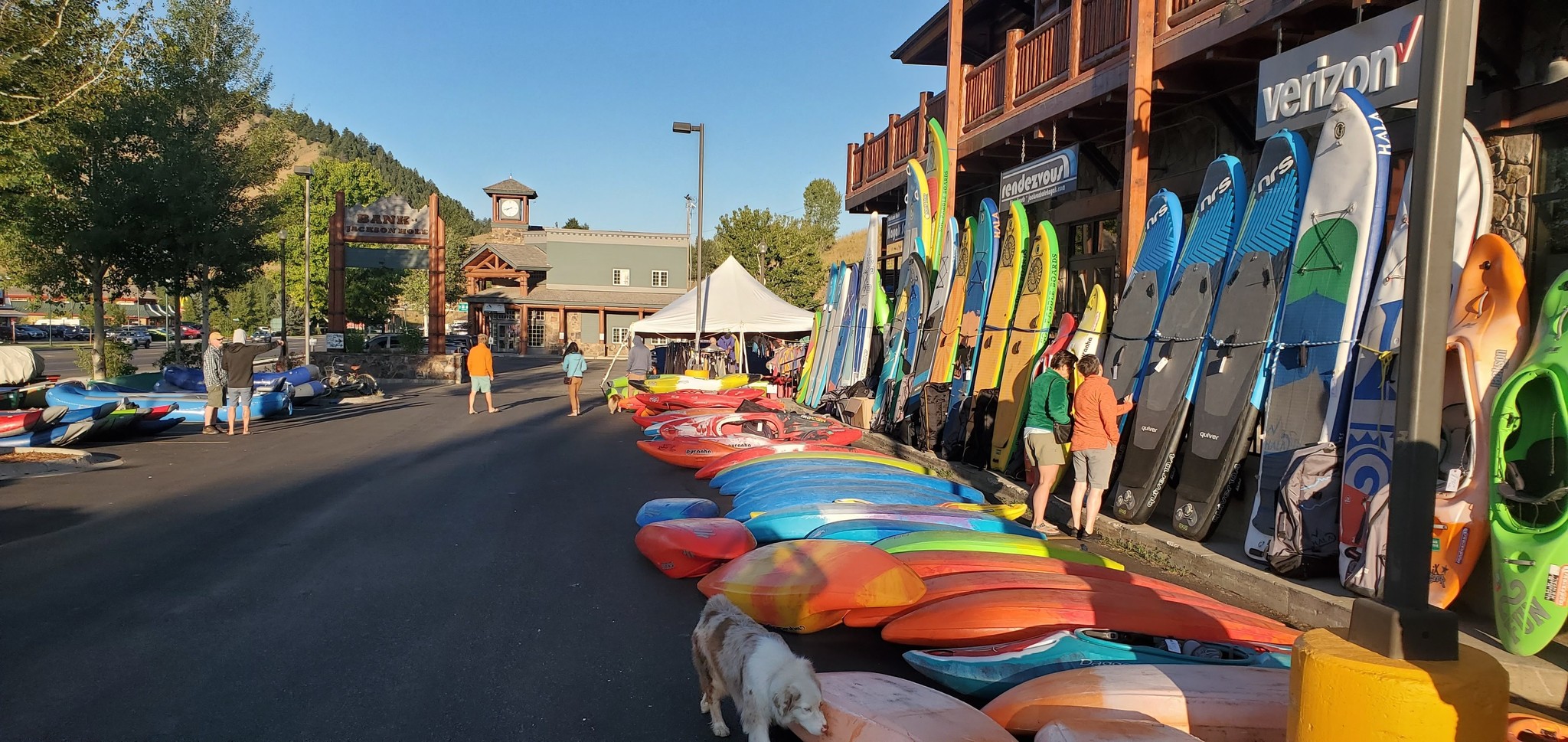 Outside Rendezvous River Sports During the Labor Day Sale
Our Shop
Located in the town of Jackson, Rendezvous River Sports has the best selection of paddling equipment in the West. Our service-oriented staff specializes in providing you with precisely what you need for your paddling adventures. We offer canoes, kayaks, rafts, paddles and gear from leading companies, including Wilderness Systems, NRS, Perception, Pyranha, Starboard, Dagger, Boardworks, Badfish, Jackson, Aire, Chaco, Astral, Stohlquist, Kokatat, Snap Dragon, SOL, Smith, Werner, Thule,  and more. Rentals and Demos are available daily. Wherever you are you can count on Rendezvous River Sports for your paddling needs. We ship kayaks and equipment around the world.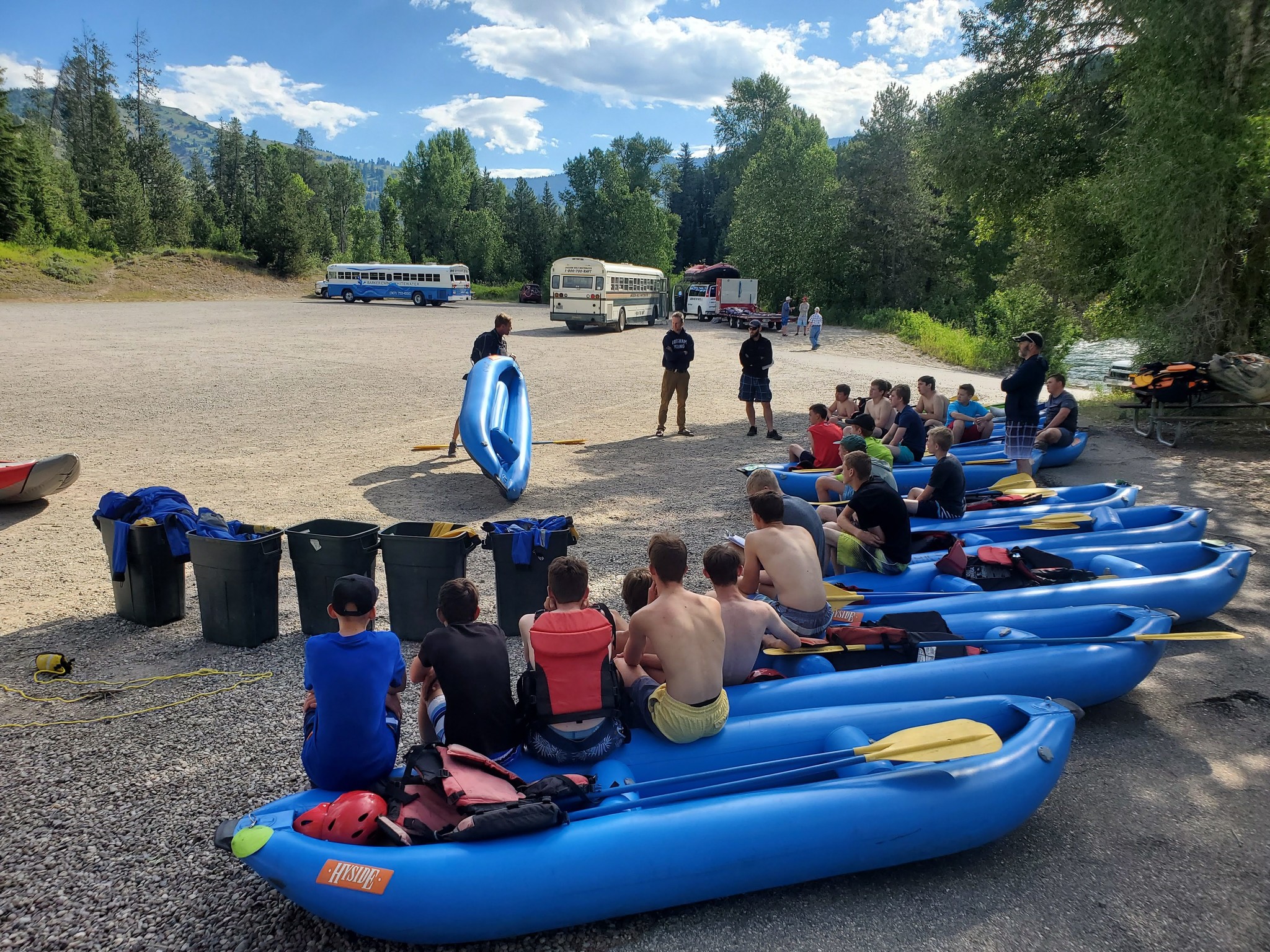 Students Being briefed on the Basics of an Inflatable kayak
Our Approach
Jackson Hole Kayak School courses emphasize a comfortable progression of skills. We allow time for students to learn and master basic skills before moving on. All our instructors are certified by the American Canoe Association to teach on flat, moving and whitewater. We are especially sensitive to the beginner's needs and make certain they become comfortable in their new craft. We maintain a low 4-to-1 student to instructor ratio for all skill levels.
Our courses are taught on the Wild & Scenic Snake and Hoback Rivers, Flat Creek, Slide Lake and in Yellowstone National Park. The Snake, with its deep and forgiving water, is one of the best instructional rivers in the world. The Hoback River (a tributary of the Snake) has a narrower channel and offers greater technical challenges. Both rivers are fed by an annual average snowfall of 400+". We never have a shortage of water. Jackson Hole Kayak School is a permittee of Bridger-Teton National Forest and an equal opportunity provider.
Call now to make a reservation (307)733-2471 or write 

[email protected]
Jackson Hole Kayak School is a permittee of the Bridger-Teton National Forest and an equal opportunity provider
Rendezvous River Sports is a practitioner of Stewardship and Sustainability.
Click the links below to find out how you can make a difference.