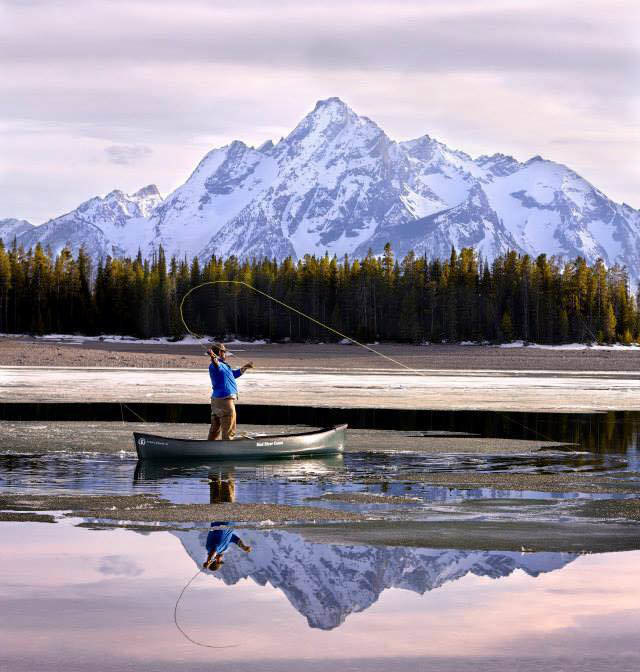 Fishing On Jackson Lake in Grand Teton National Park, WY
Jackson Lake
Jackson Lake lies entirely in Grand Teton National Park. The Tetons rise immediately from the west shore. There are several different access points and numerous excellent camping spots. A park boat permit is required for all craft and a backcountry permit is required for overnight camping. Camping is permitted in designated sites only. The lake is open to motorized travel. Mid-summer, paddlers will likely encounter many large and small motorboats.
A great access point that will help you avoid crowds is at Spalding Bay. Other accesses are at Leeks Marina, Colter Bay, and Signal Mountain. To reach Spalding Bay Boat Ramp drive north from Jackson on Hwy 191/89 and turn left at Moose Junction. Stop at the visitor center if you need a permit. Enter the Park and continue north on Teton Park Road. Shortly after passing North Jenny Lake Junction look for a left turn on an unmarked dirt road that leads to Spalding Bay Boat Ramp.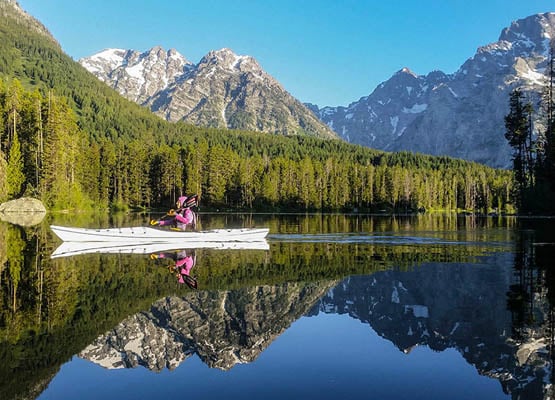 Paddling on String Lake, Grand Teton National Park WY
String to Leigh Lake
Just to the south of Jackson Lake lie Leigh and String Lakes. Paddling these beautiful little lakes makes a great backcountry tour. No motorized travel is allowed on either lake and Leigh Lake has no road access. Reaching Leigh requires a short paddle to the north end of String Lake, then an easy portage. Once on Leigh Lake, there are many spectacular campsites, permits are required. Boat permit stickers are also required.
To reach String Lake drive north from the Moose Visitor Center and turn left at North Jenny Lake Junction. Follow the signs to the String Lake Boat Access.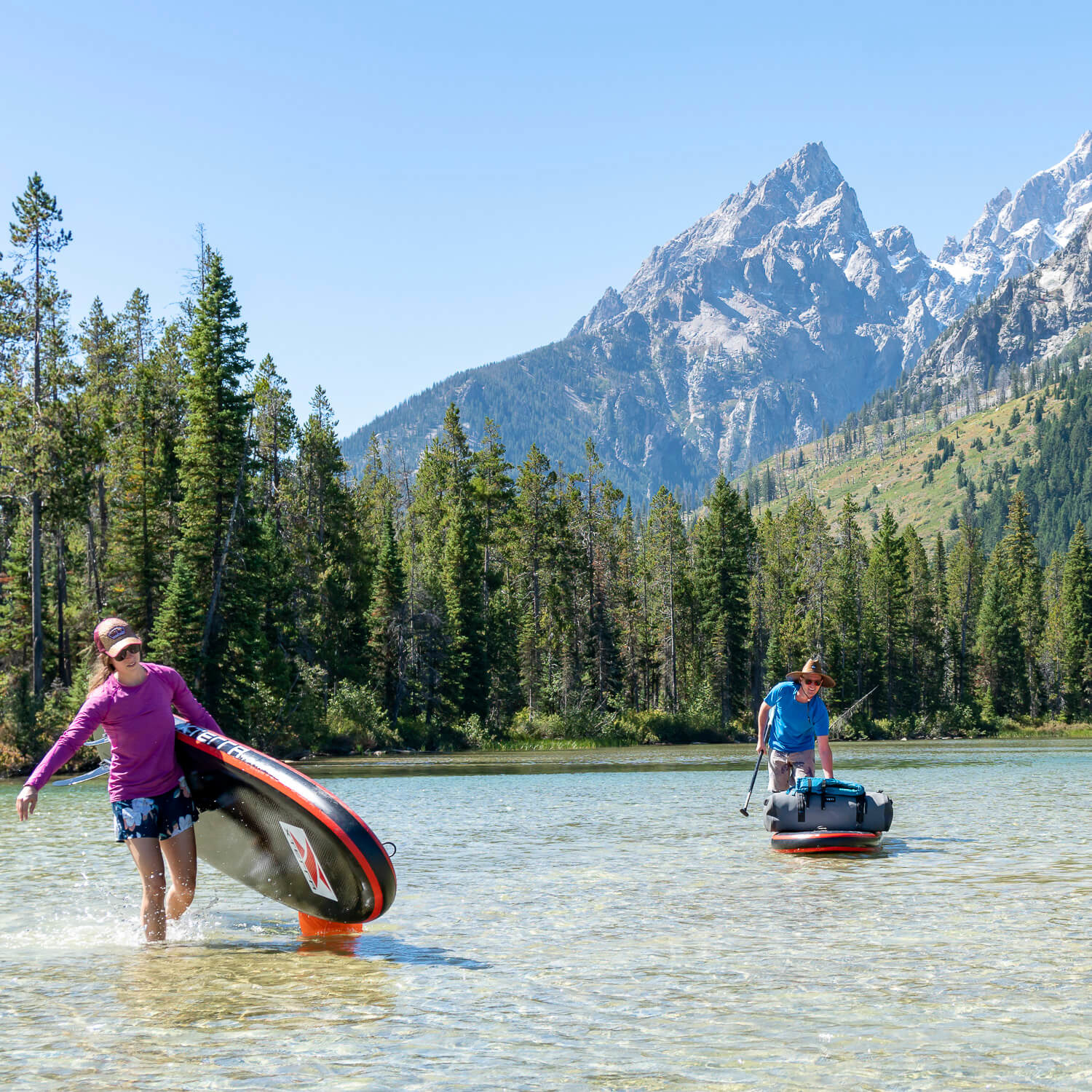 Stand Up Paddling on Jenny Lake, Grand Teton National Park WY
Jenny Lake
South of String Lake lies Jenny Lake. The Grand Teton and Teewinot Mountain rise abruptly above its placid, deep waters. Paddling around Jenny Lake makes an excellent afternoon tour. Small motors are allowed on the lake but kayaks and canoes are more common. Boat permit stickers are required and there are no backcountry camping areas.
To reach the boat ramp on Jenny Lake drive north from the Moose Visitor Center. Turn left on the road to Lupine Meadows. The road crosses a small bridge, then divides. Turn right onto the rough dirt road that leads to the lake.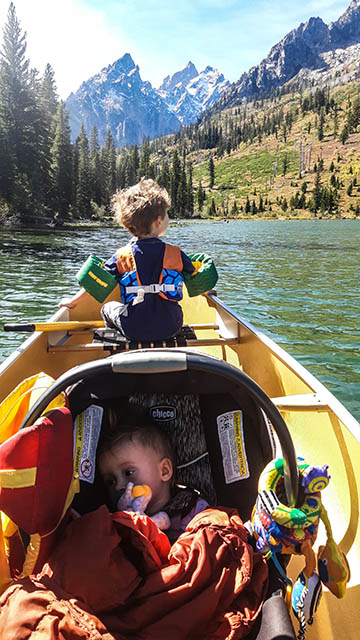 Taking the Kids for a paddle on Jenny Lake, Grand Teton National Park WY
Other Tours
There are many more paddling tours in and around the valley. Also in GTNP are Two Ocean and Emma Matilda Lakes. To the east, in the Gros Ventre Mountains, lie Upper and Lower Slide. Palisades Reservoir and the Snake River below Palisades Dam offer touring as well. Lake touring in Yellowstone National Park is outlined in the description of our kayak trips. Remember to ask the experts at Rendezvous River Sports about any of the tours in the area.
Call now to make a reservation (307)733-2471 or write 

[email protected]
Jackson Hole Kayak School is a permittee of the Bridger-Teton National Forest and an equal opportunity provider
Rendezvous River Sports is a practitioner of Stewardship and Sustainability.
Click the links below to find out how you can make a difference.