Day 0 – Optional –
Please note – with the exception of the meeting time on day 1, times listed are the approximate start time window of when we will begin that activity. All times and mileages are approximate. Variations to timing and distances may occur due to weather conditions and the abilities or needs of each individual group.   
Join us for a meet and greet at 6:30 the evening before your departure on the deck of Rendezvous River Sports – Meet the lead guide, check out the maps to learn more about Grand Teton National Park, our itinerary and pick up your dry bags. Guides will go over the personal gear list to make sure you have everything you need. 
Day 1- Kayaking on Jackson Lake - Approximate mileage 2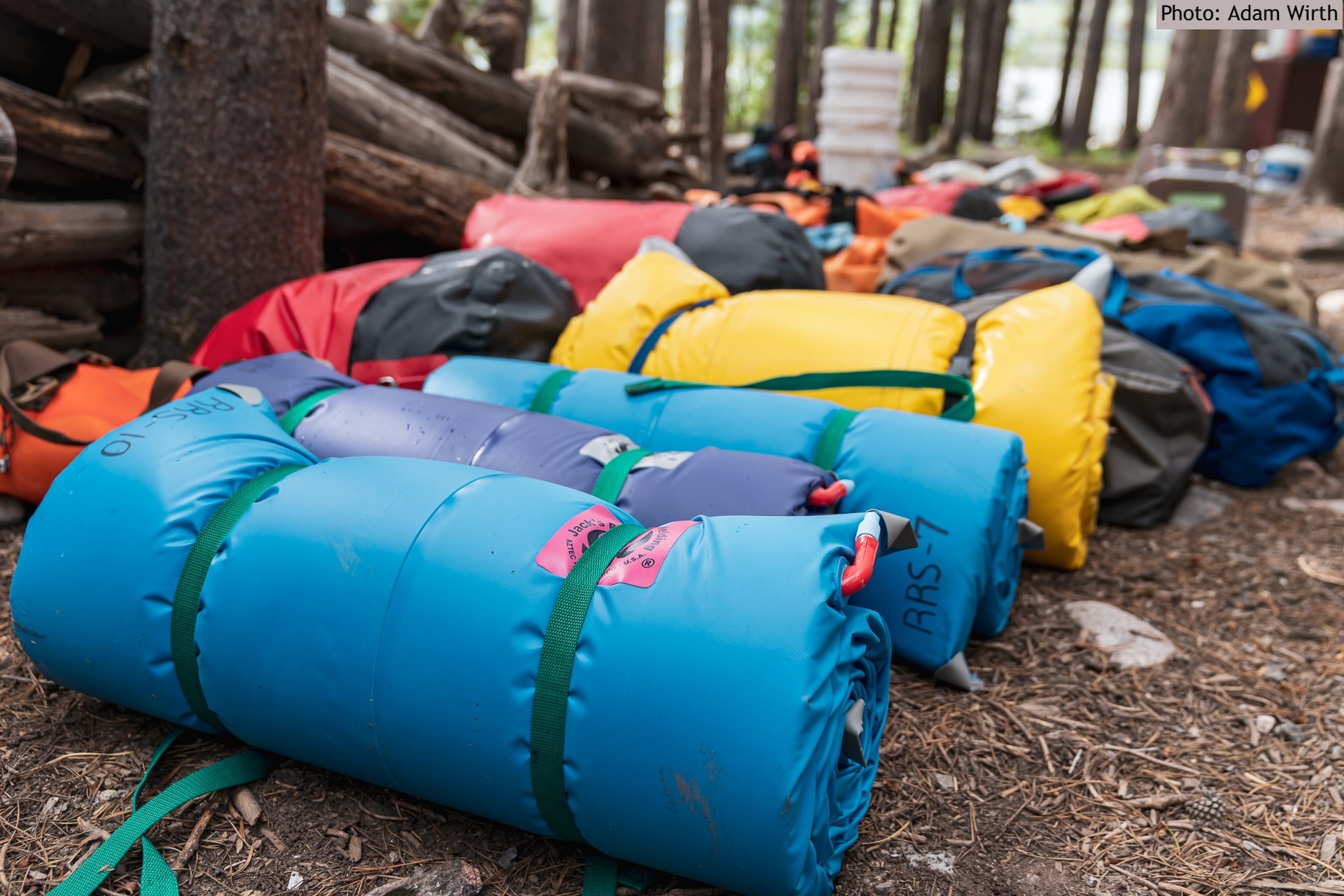 1:00 pm
We will meet at Rendezvous River Sports at 945 W. Broadway in Jackson – let us know if you need to arrange a pick up from your hotel or would like to bring your own car. Depending on how everyone packed their gear and suitcase storage needs, we may have everyone put their gear in drybags at Rendezvous or we may do this at Jackson Lake. Either way, you will quickly enjoy the spectacular views of the Tetons as we drive north to Jackson Lake.  Remember to bring your National Park Pass or you may prepay for park entry.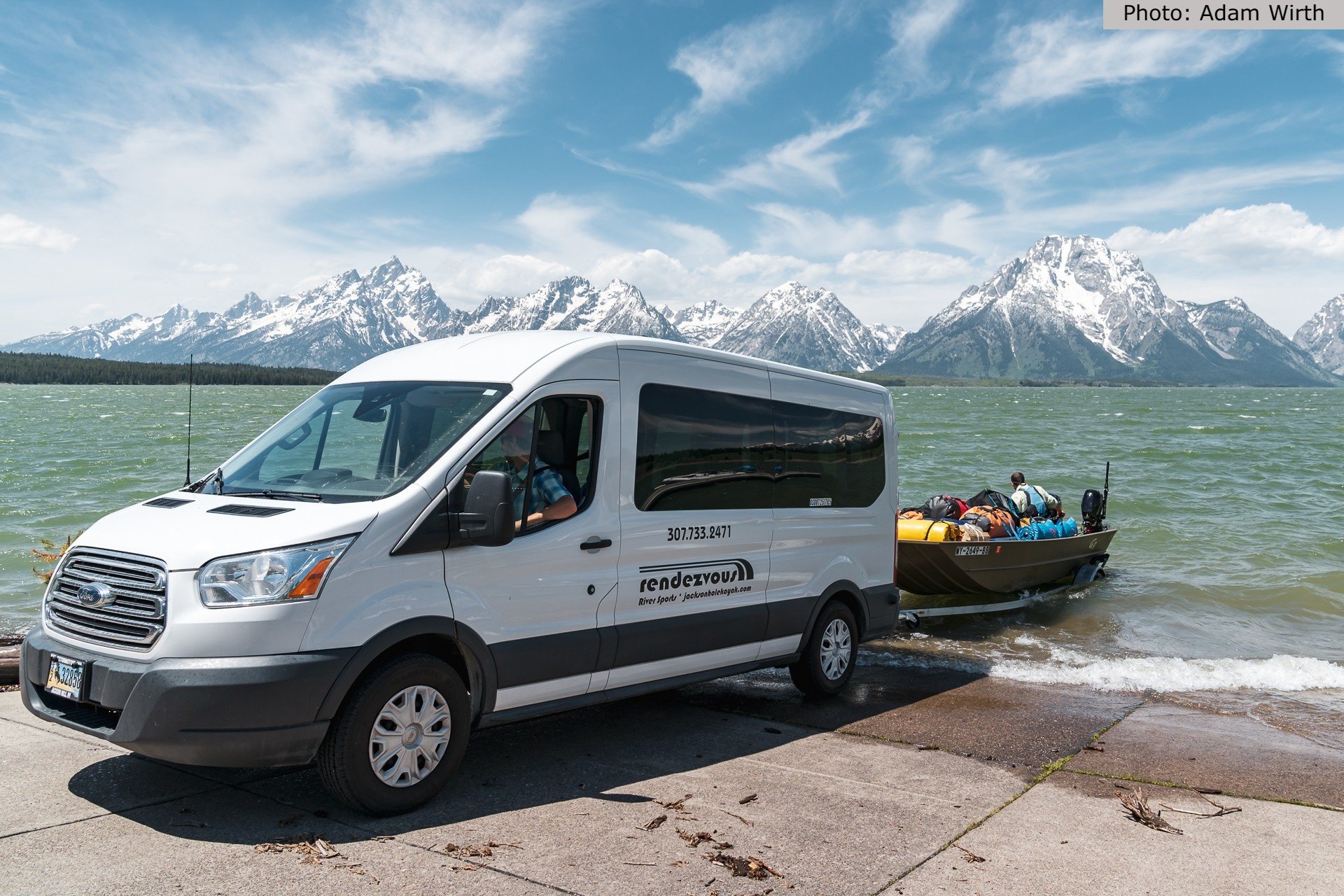 2:15 – 2:30 pm
We will arrive at Signal Mountain Boat Ramp on Jackson Lake. Once we are at Jackson Lake if you have not yet put your gear in drybags your guide will give you one large size for overnight gear that will be loaded on our motor rig and a smaller dry bag to keep in your kayak for the gear you will want during the day. You will also receive a small personal gift such as a water bottle, travel mug or chums – choose whatever is most useful for you. Grand Teton National Park is Grizzly country. Here we will begin learning how to minimize our risk of conflicts with bears and you will receive a bear-proof container for toiletries and any small personal items that have a scent and might be an attractant to black or grizzly bear. Your guide will also help you get fitted to a set of waterproof/breathable jacket and pants, a life jacket and spray skirt. Next, we will get everyone set in their kayaks, go over proper entry and exit and make sure all outfitting is adjusted for your liking.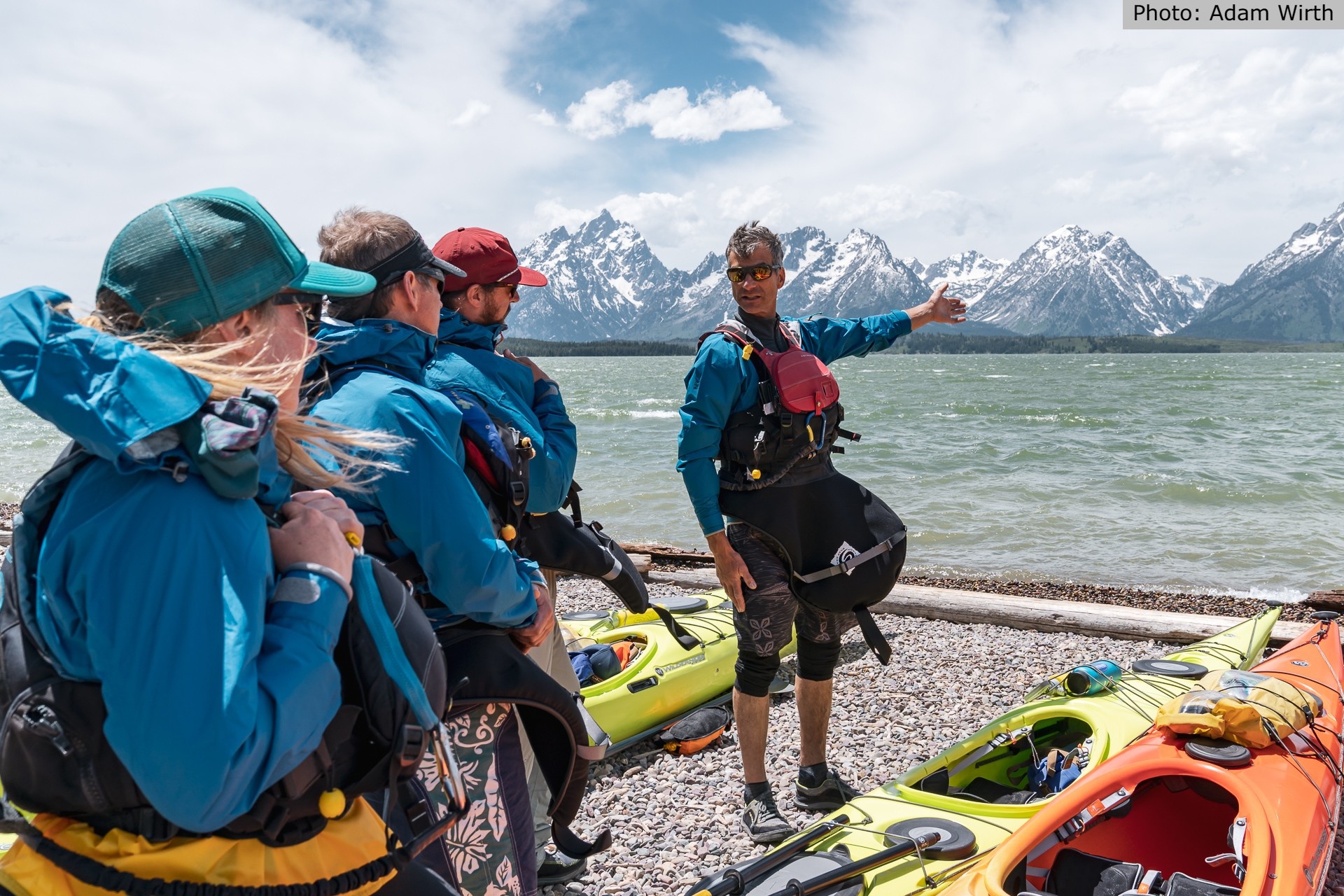 2:30-3:00pm
Once everyone is comfortable in their kayaks you will get a Werner paddle and your guide will go over basic paddling strokes, proper posture and effective paddling technique. By now everyone will be more than ready to launch but before the fun really starts, we will go through our detailed safety outline prior to embarking on our adventure. As we paddle across Jackson Lake toward Donoho Point your guide will give an overview of Jackson Lake and the Teton Range. This may include information about geology, wildlife and the colorful mountaineering and skiing history of this storied range. As we paddle your guide (who is also an American Canoe Association kayak instructor) will offer pointers on paddling and regular check-ins to make sure your kayak is comfortable.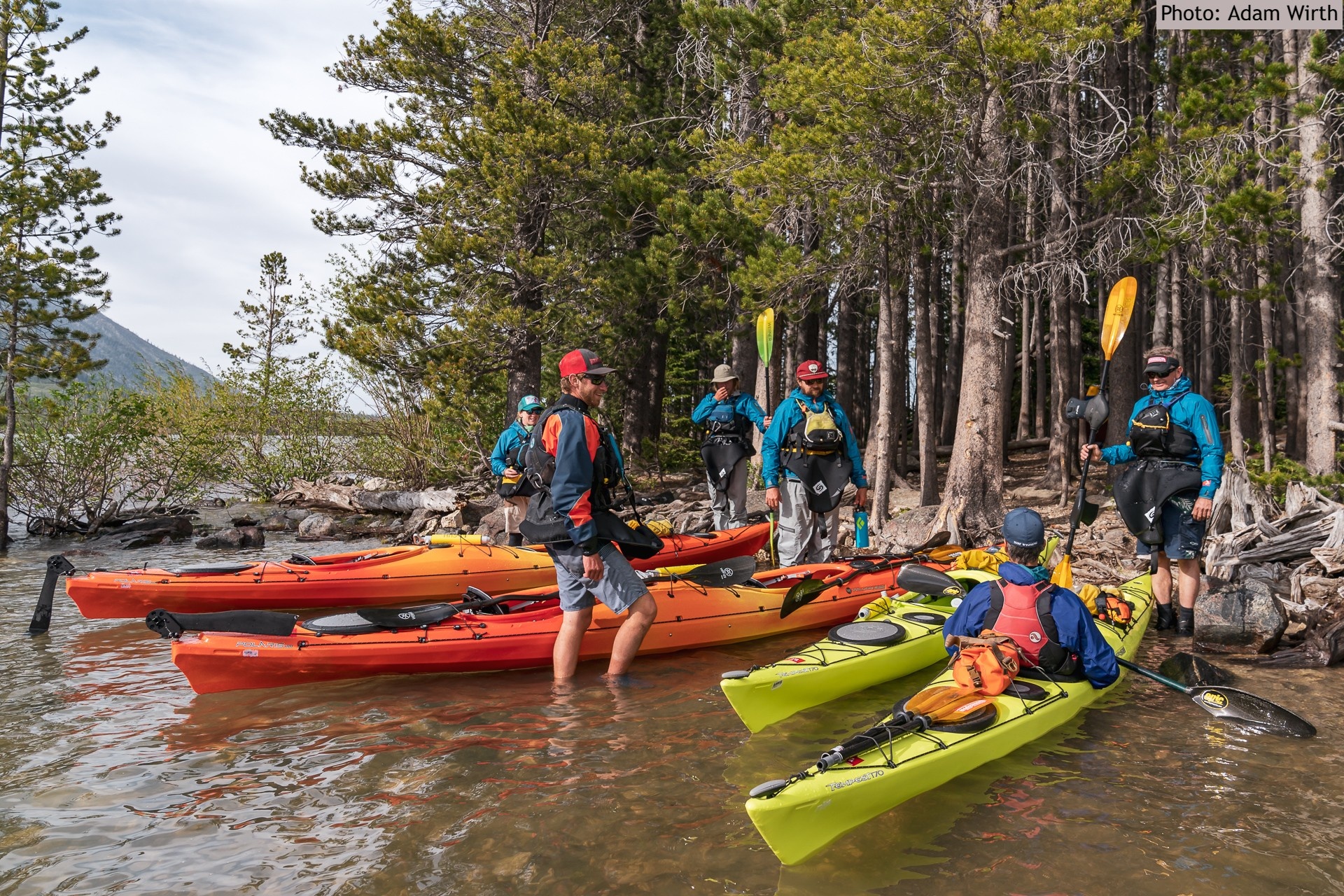 4:00-4:15pm
We will arrive at Spaulding Camp where your guides will give you an orientation of the campsite and further instruction on the plant and animal life of Grand Teton, how to enjoy viewing wildlife appropriately, how to safely use bear spray and our Leave No Trace camping methods. Our goal is always to leave the places we camp and visit on Jackson Lake and the Snake River just as we found them or better. Your guides will help you pick the perfect spot for tents and help with set up and making them comfortable. We will also go over an important subject to everybody – proper use of the portable toilet and general human waste protocols to protect our waters. Depending on the weather you will have time to relax, take photos, read, get a magnified view of the peaks, fish, swim or stretch out your kayak legs on a stand-up paddleboard as your guides set up our camp kitchen and spread out hors devours.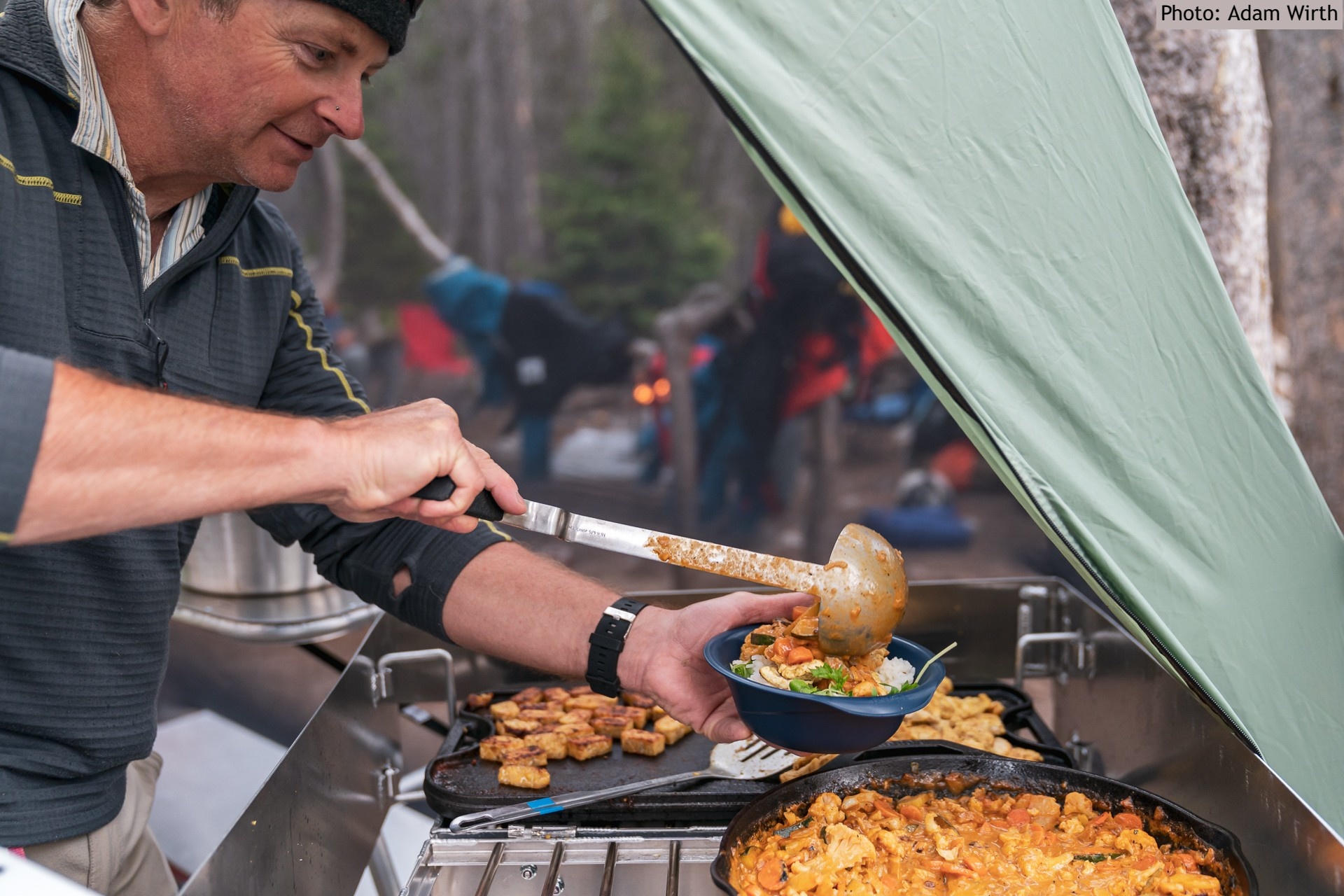 6:00-6:30pm
Enjoy a back-country gourmet meal with locally/regionally produced fresh salad and a variety of potential main dishes such as coq-a-vin with potatoes, fajitas with Spanish rice, pappardelle pasta with red sauce and more. Save room for desserts like smores and the delicious things that can be baked in a Dutch oven. Keeping a clean camp is imperative to avoid conflicts with wildlife. Following dessert (and each meal) your guides will initiate cleaning up and explain our leave no crumb policy. In addition, to clean up, they will explain our goal of zero waste to landfill and how you can help us make it work. Did you know that food waste accounts for over 30% of garbage? On our trips, all uneaten leftovers will either be composted and used in soil enrichment or turned into feed for other animals.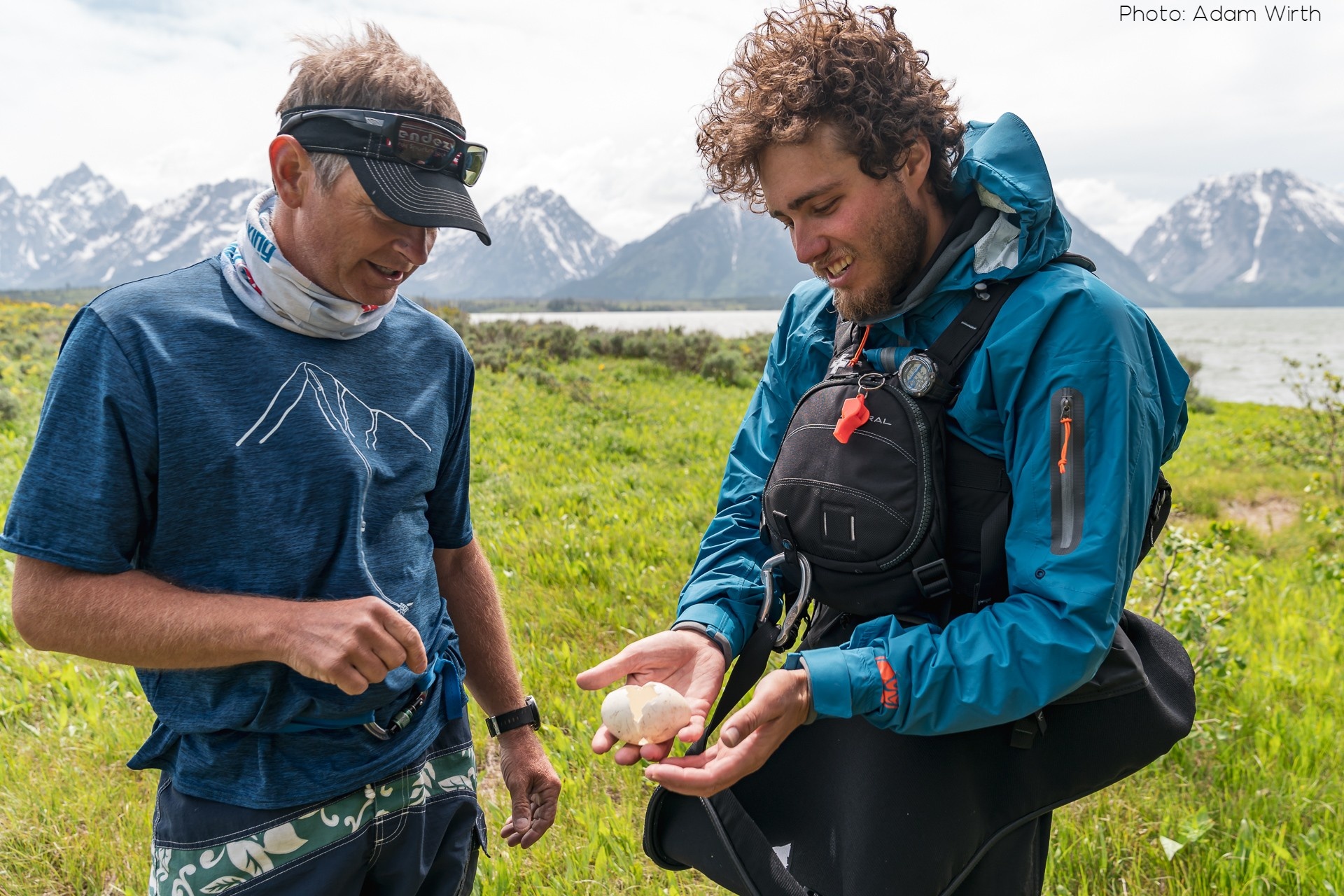 7:00-8:00pm
While everyone is welcome to spend their evening camp time as best suits them, or retire for the evening when they choose – each evening we will enjoy a campfire (weather and fire conditions permitting) and your guides will involve you in learning about the Greater Yellowstone Ecosystem (GYE). The GYE is one of the last and largest intact temperate ecosystems left in the World and we will be camping right in the middle of it. Learn about the many things that make it special, how it is preserved and how we can keep it that way for others to experience.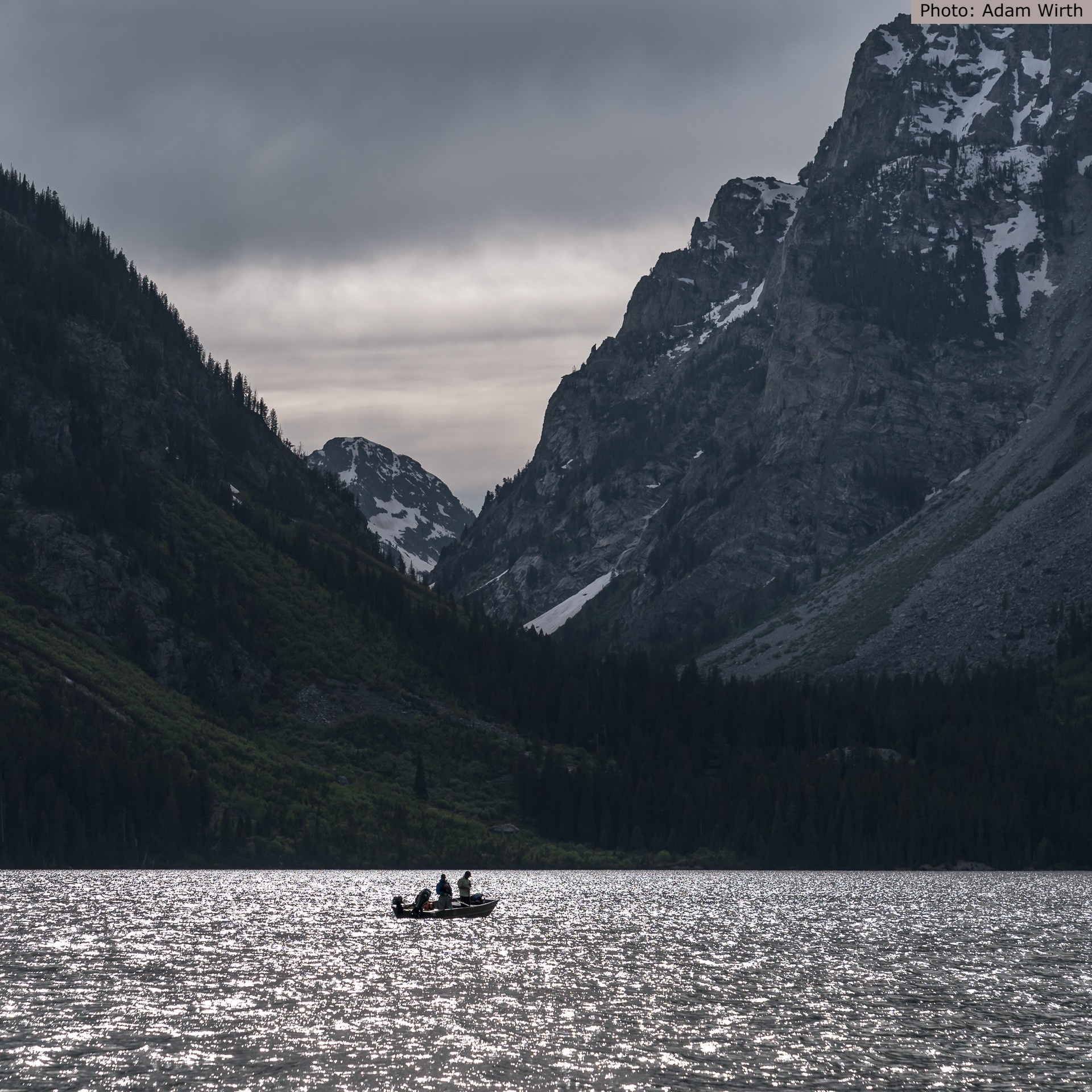 9:30-10:00pm
Summer days are long at 44 degrees North. As darkness falls enjoy the natural sounds or silence of Jackson Lake at night and the exceptional star gazing enhanced by the absence of cities in our region and an elevation over 6,700 ft. The planets and stars pop in Grand Teton in a spectacular fashion. Learn new constellations or share the ones you know and get a closer look at the moon or planets with our telescope. By now you may be tired – get a great night's rest – you've earned it. 
Day 2- Kayaking – approximate mileage 2 miles – Rafting on Snake River 10.5 miles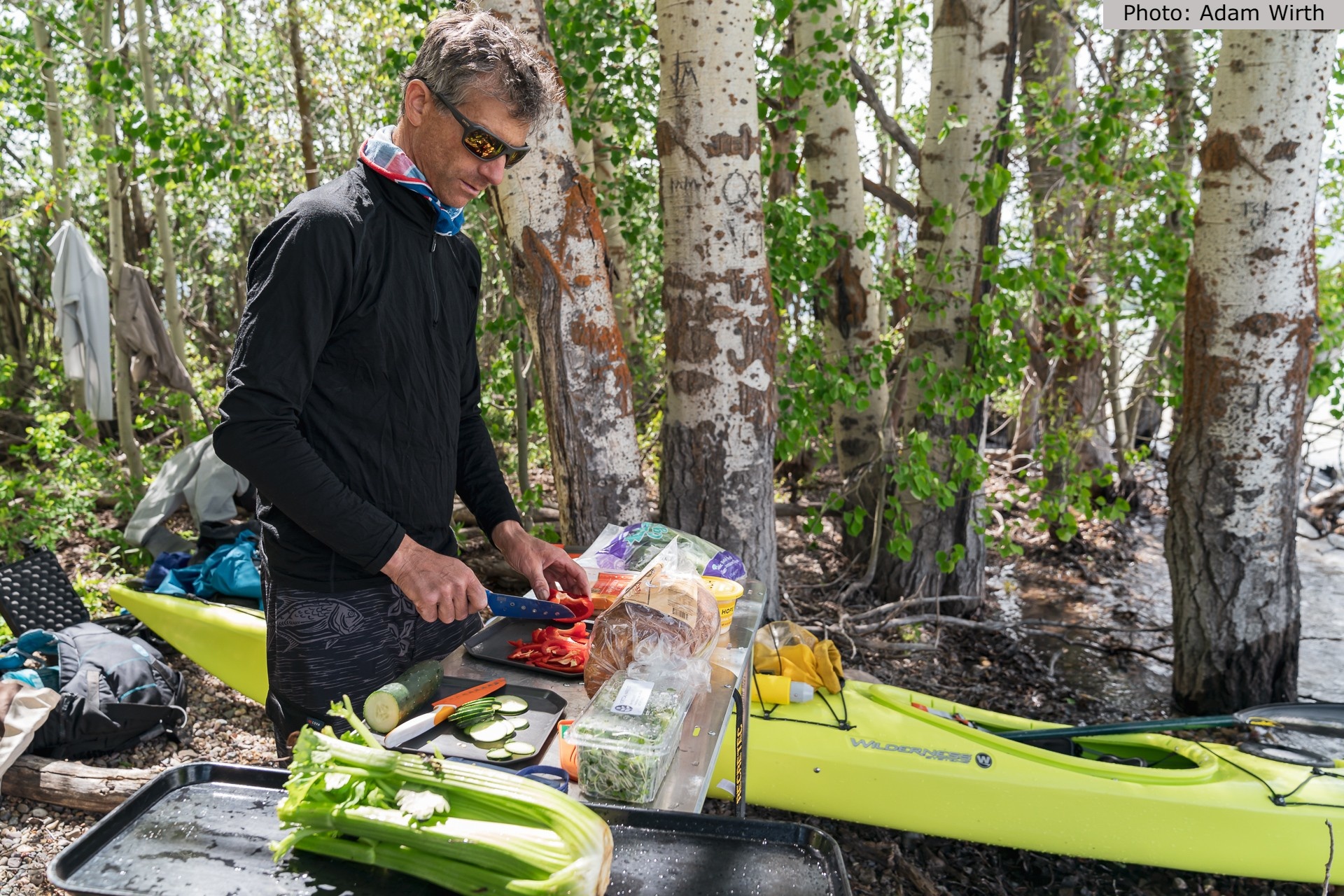 7:00 am
Your guides will have coffee, milk or half and half and hot water for tea or cocoa ready.  
7:15 am
We will have either breakfast sandwiches, bagels with cream cheese, hot cereal and of course a selection of fresh fruit.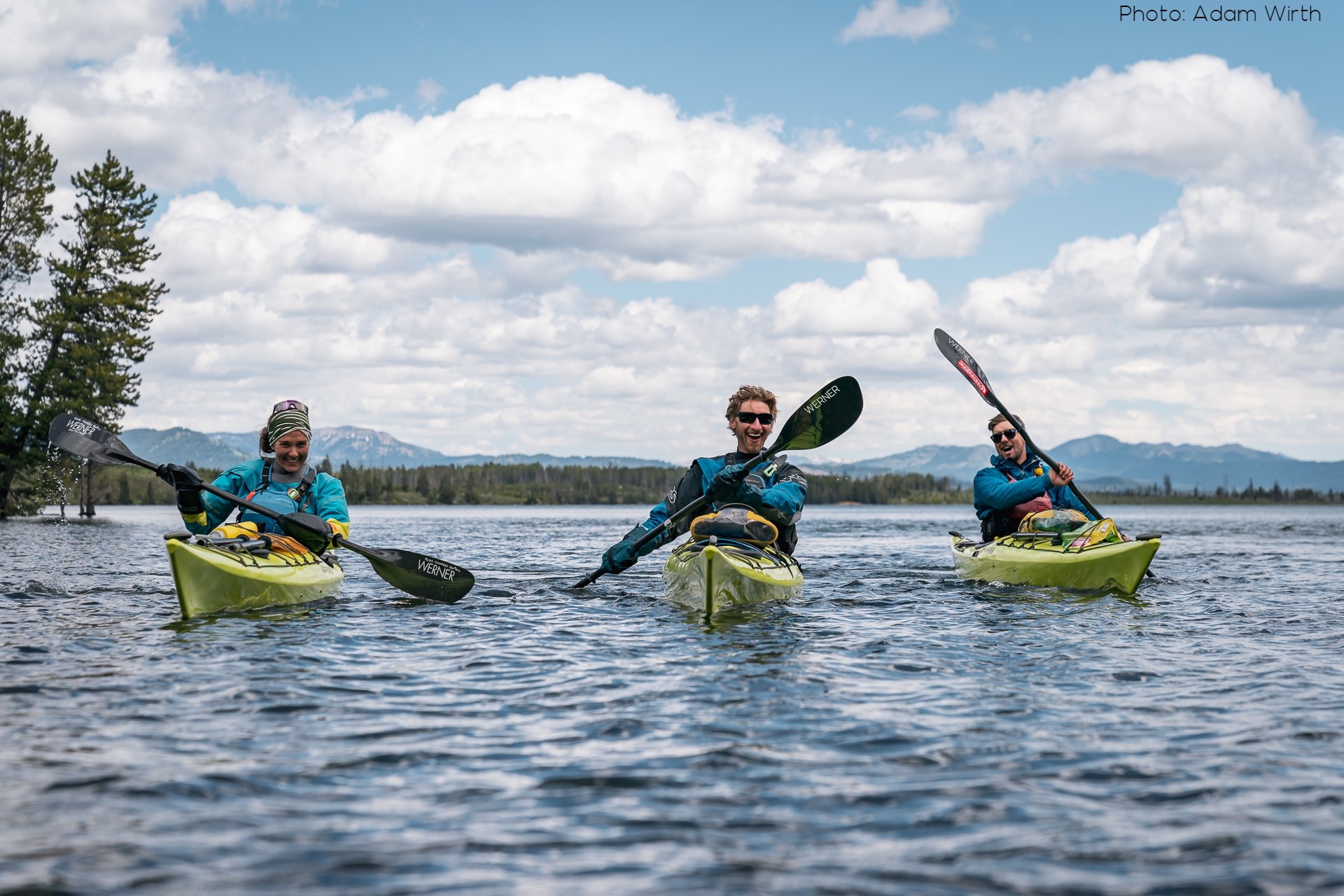 7:45-9:00 am
Break camp and enjoy views of the Gros Ventre and Absaroka Mountains while paddling back to Signal Mountain Ramp. 
10:00 am
At Signal we will unload our gear and head to Pacific Creek Launch and the Wild & Scenic Snake River. To expedite your transfer from the lake to river, you will only need your day bag and your overnight gear will be transferred directly back to Rendezvous River Sports or the take out if that works better for your itinerary.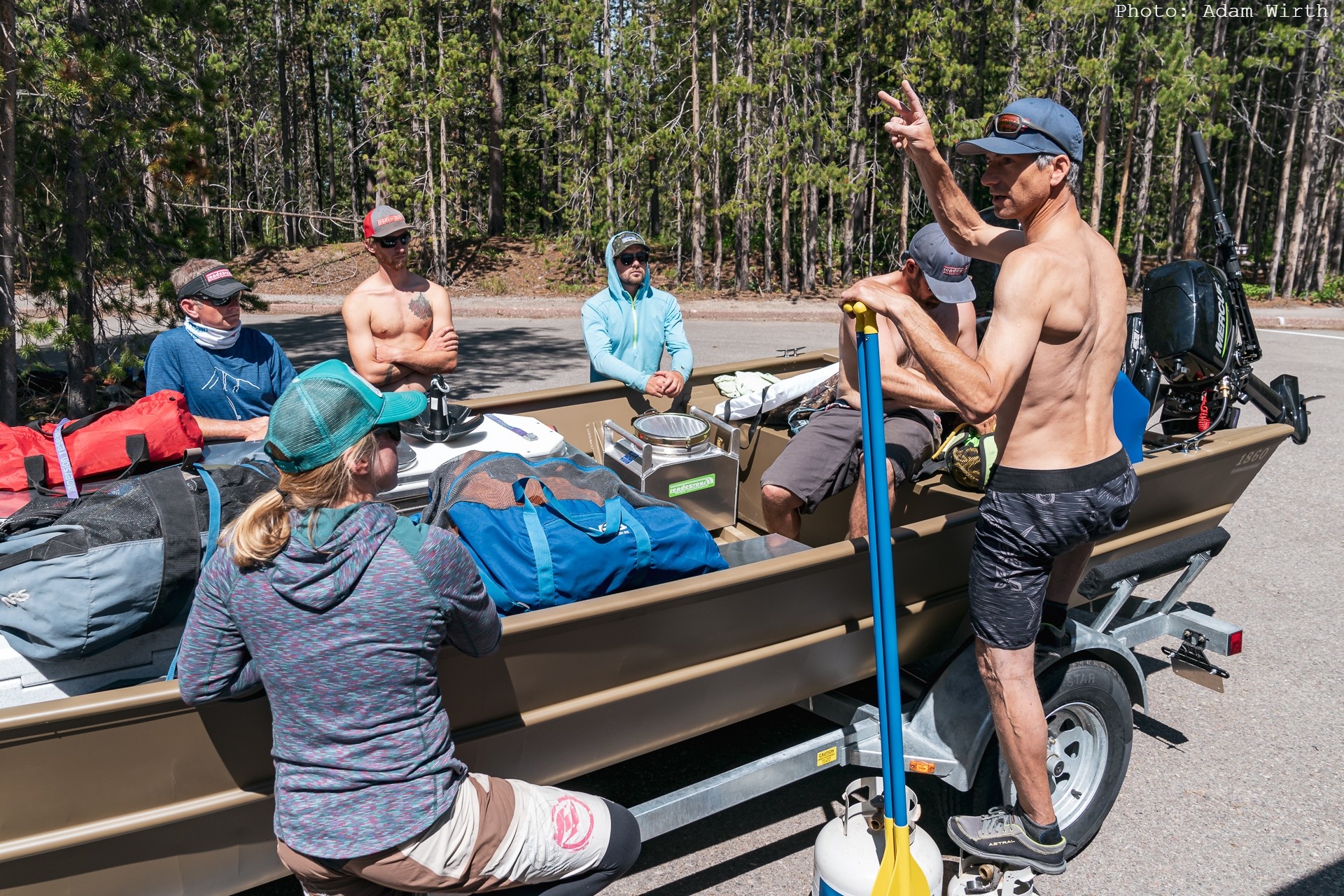 10:45 am
We will arrive at the Snake River and begin to learn all about what makes it special. Prior to launch, we will add to the Safety Outline we covered on day 1 and learn about river features. What's an eddy? What forms river waves? You will learn about these things and how we will navigate a swift mountain river, the hazards involved and how to deal with them. 
11:15 am
Launch - there is nothing like a river trip and once on the water you will enjoy viewing a new angle on the Tetons, the rich riparian habitat and chances to see some of its denizens such as beaver, otters, eagles, osprey, pelicans and more. Your guide will share the story of the Wild & Scenic Rivers Act – its roots in Jackson Hole and the recent work done by Rendezvous River Sports and the local outfitting community to protect over 400 miles of the Snake and its headwaters as a designated Wild & Scenic watershed. When Congress considers a designation, they look at rivers Outstanding Remarkable Values (ORVs)and the Snake is considered the best of the best in the lower 48 for its water quality, the health of the native fishery, riverine habitat, scenic vistas, and recreation. Of course, riding on a raft is one of the best ways to appreciate the ORVs of the Snake as we float downstream back towards Jackson. Depending on everyone's appetite, we may have a floating lunch on the river or a picnic at the takeout. 
1:15pm
We will arrive at our take out at Deadman's Bar and either enjoy a quick lunch – if we haven't already and then return to Rendezvous River Sports to unpack our gear. 
2:00pm
We will be back at Rendezvous to say our farewells. Hope you can come back to see us again. Thanks for being our guest on this adventure! 
If you have any questions you can call (307)733-2471 or write 

[email protected]
Jackson Hole Kayak School is a permittee of the Bridger-Teton National Forest and an equal opportunity provider
Rendezvous River Sports is a practitioner of Stewardship and Sustainability.
Click the links below to find out how you can make a difference.