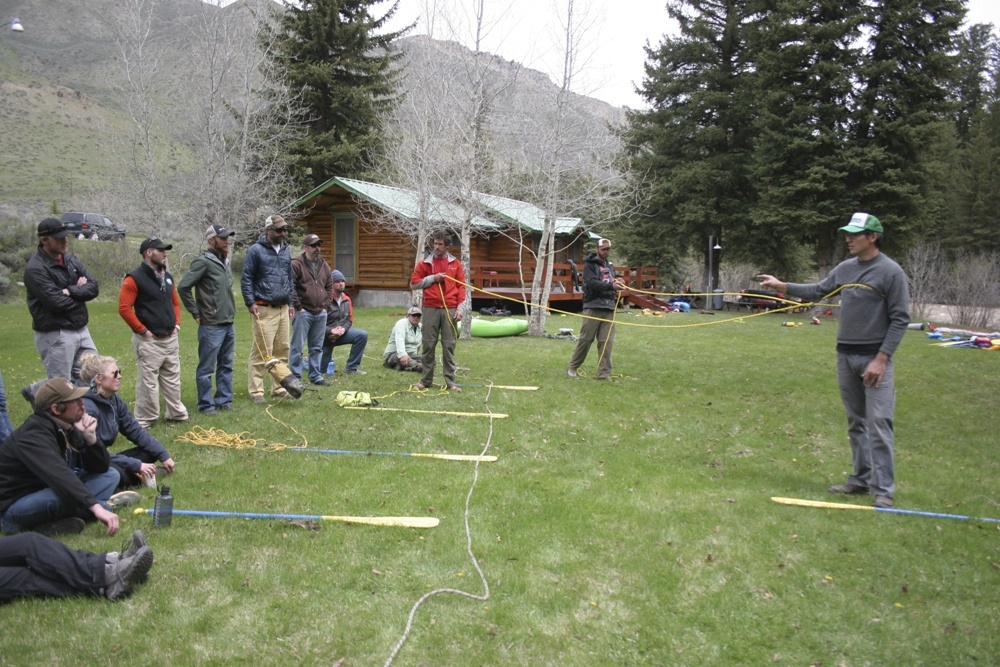 Classroom Session on the Hoback River. South of Jackson WY
ACA Level 4: Swiftwater Rescue - 2 Day Course
This course will be following the American Canoe Association (ACA) curriculum and will be taught by ACA certified instructors. This is a boat-based Swiftwater course, based on the assumption that you are in a backcountry setting and have access to limited resources. For specific questions on the course curriculum, you can use the following link to the ACA website for the course outline.
Students will receive a card certifying that they have attended an ACA Swiftwater rescue course.
Equipment: Students will be expected to provide their own PFD (type 3 or 5), whitewater helmet, protective clothing suitable for swimming in cold water (Drysuits or a combination drytop/wetsuit combination are recommended), appropriate river footwear, throw rope, knife, whistle, 15+ feet 1-inch tubular webbing, 2 locking carabineers, 2 pulleys and 2 prusik loops.
Please make arrangements in advance if you will need to rent gear.
If the course overbooks it may be possible for us to schedule an additional course. Please contact Rendezvous River Sports (307-733-2471) for more information about booking a separate course.
ACA Level 4: Swiftwater Rescue - 2 Day Course

2020 Dates

May 16th - 17th 

June 13th - 14th

Cost $255 (Gear & Meals not included)
JHKS and ACA Instructors Jon Souter and Dane Stevens scout Deliberation Rapid on the Box
ACA Level 5: Swiftwater Rescue Instructors Course - 5 Day Course
This 44-hour course is focused on the latest technical knowledge, terminology, teaching skills, rescue skills, and safety awareness in a Swiftwater environment. This course helps you work on personal and interpersonal development and pushes you to build skills and knowledge through peer feedback, video analysis, and lectures. We combine practical on-water demonstrations and presentations with real-world scenarios that will equip you to deal with teaching this multifaceted sport as a professional. This course sets the industry standard for instruction in paddle sports.
The ACA instructor certification process is broken up into two core components: the Instructor Development Workshop (IDW), and Instructor Certification Exam (ICE). The IDW presents students with the skills and knowledge that are required to become an instructor. The ICE is an opportunity for each candidate to demonstrate his/her proficiency in the presentation (logical progression) and demonstration (proper modeling) of the skills, knowledge necessary for certification. This course will cover the following ACA curriculum content:
Essentials of River Safety and Rescue
River Safety and Rescue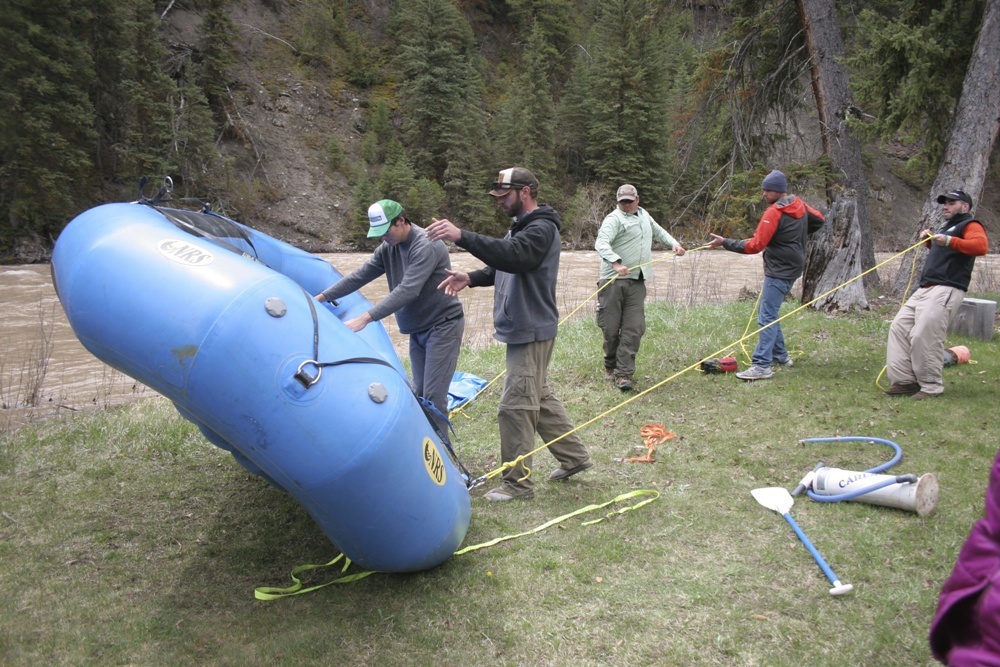 Classroom Session for a Pinned raft on the Hoback River
To Be Certified You Must...
Be at least 18 years of age
Be or become a member of the ACA
Become a member of the Safety, Education, and Instruction (SEI) Committee
Successfully complete the course (requires: attendance at every session and completed homework, quizzes, and tests)
Just because you have paid your class fees and attended the class, does not mean you are guaranteed certification. Each candidate must show competency in technical knowledge, paddling skills, teaching skills, safety awareness, and necessary interpersonal skills at the desired level of certification to achieve certification. On average only about 25% of students achieve the whitewater certification, often because this course is many kayaker's first exposures to formal instruction.
ACA Level 5: Swiftwater Rescue Instructors Course - 5 Day 

2020 Dates:

April 15th -19th

Cost

TBD
Availability
Swiftwater Rescue custom courses are available on any date. Contact us for more details.
If you have any questions you can call (307)733-2471 or write 

[email protected]
Jackson Hole Kayak School is a permittee of the Bridger-Teton National Forest and an equal opportunity provider
Rendezvous River Sports is a practitioner of Stewardship and Sustainability.
Click the links below to find out how you can make a difference.