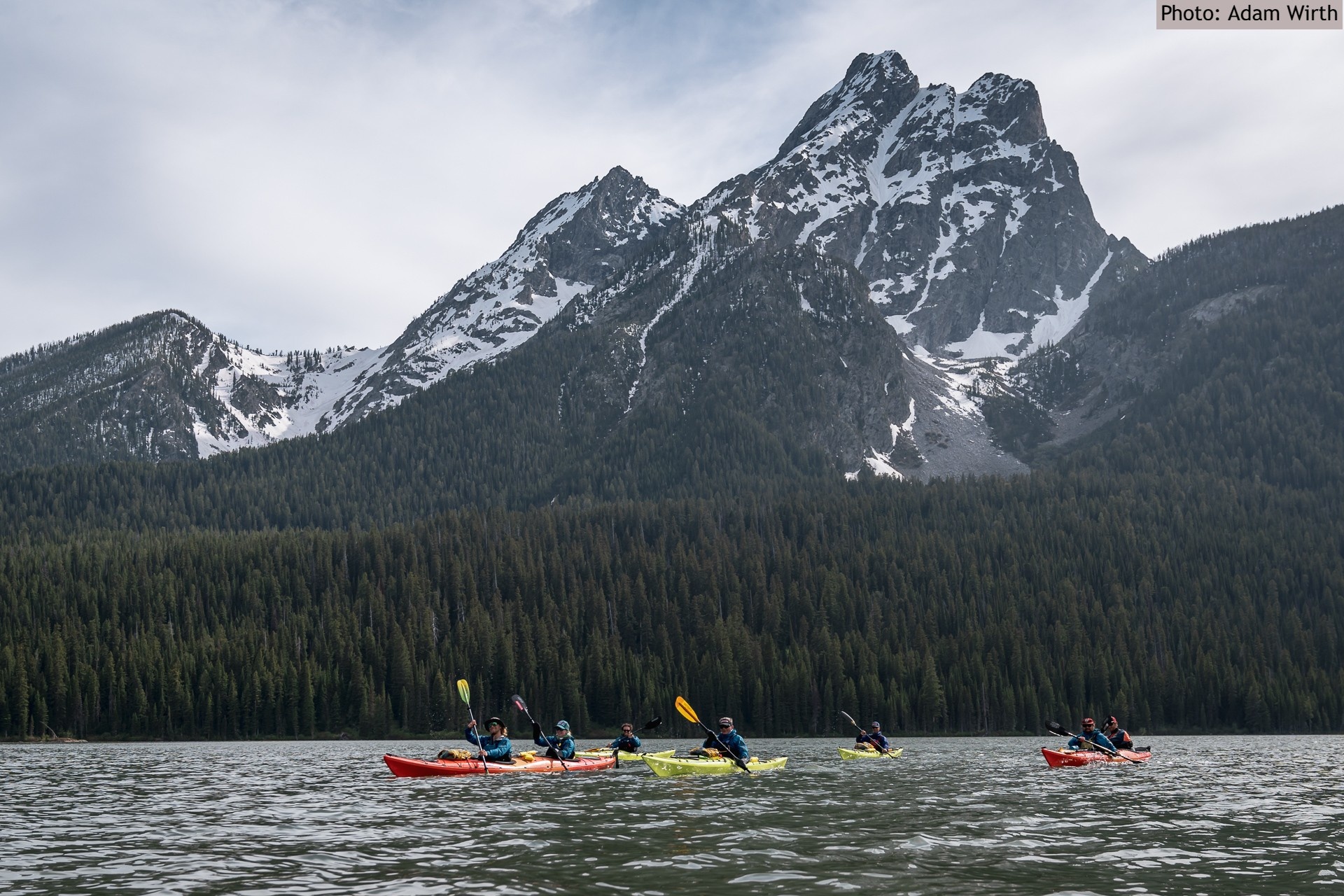 Jackson Lake and Snake River Trip Details
We really enjoyed our first season of guiding guests from around the country on our unique multi-sport, overnight trips in Grand Teton National Park and we are excited for another summer on Jackson Lake in 2021 - we hope you can join us. Enjoy 3 or 4 days of touring kayaking in front of the Tetons, private camping on Jackson Lake, hiking near Mount Moran, and rafting on the Wild & Scenic Snake River. Grand Teton National Park is at the heart of Greater Yellowstone - the largest intact ecosystem in the lower 48 states and one of the Worlds largest in a temperate zone. Traveling in quiet kayaks and rafts through this wild location gives us outstanding opportunities to view animals including moose, elk, bison, grizzly and black bear, bighorn sheep, mountain goats, beaver, otters, eagles, osprey, and other mountain inhabitants.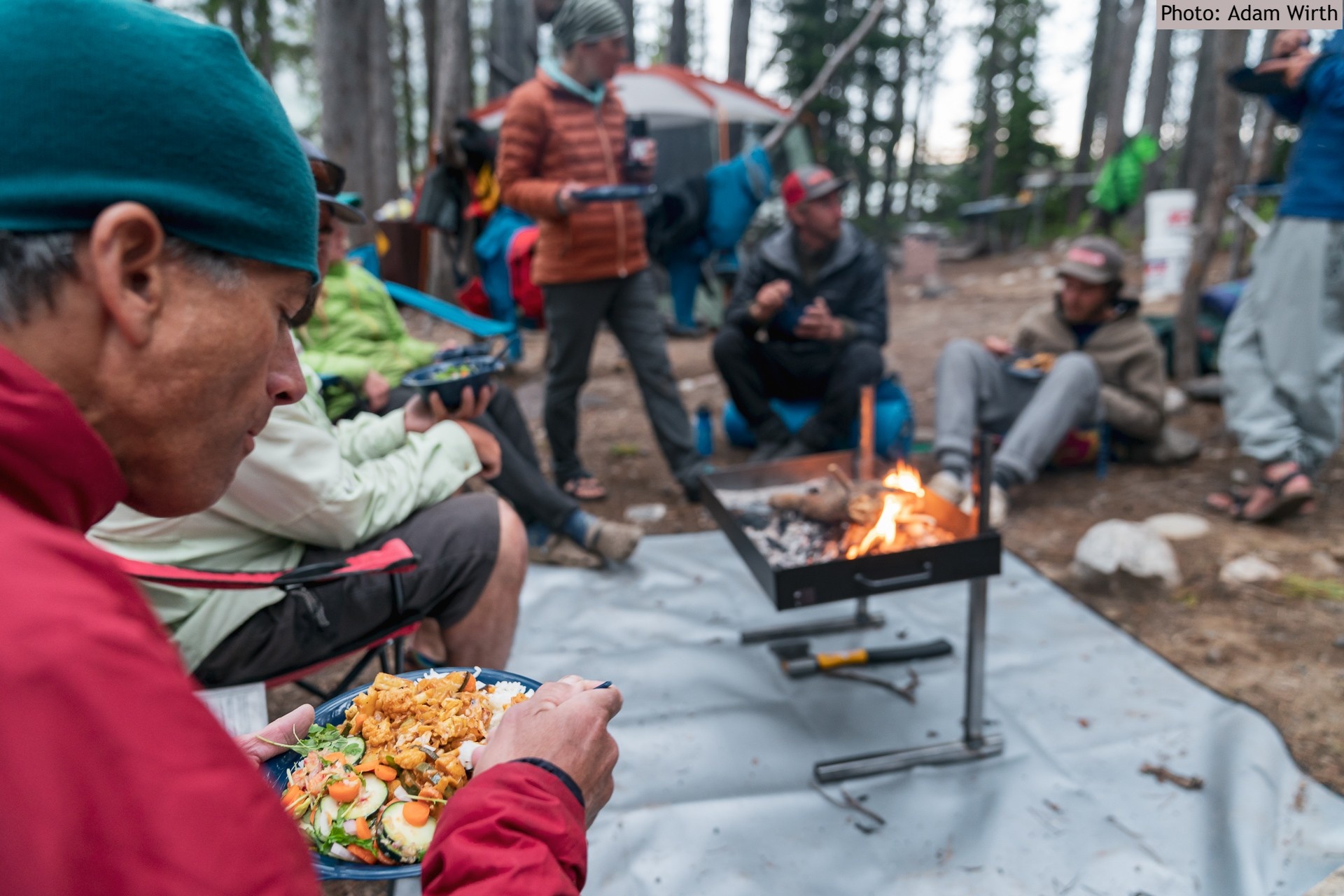 Rendezvous River Sports, has the most experienced staff in the region and we are here to help you learn to comfortably paddle your kayak and to help interpret the wonders of the youngest mountain range of the Rockies and the sparkling lakes and rivers that we will traverse. Included with your adventure are all kayaks and gear - featuring kayaks from Current Designs and Wilderness Systems, Aire Rafts, Werner Paddles, Kokatat paddle wear, comfortable PFDs from Astral and more - camping in sites only available to our guests, all group camping gear, outstanding food - with organic and locally grown selections.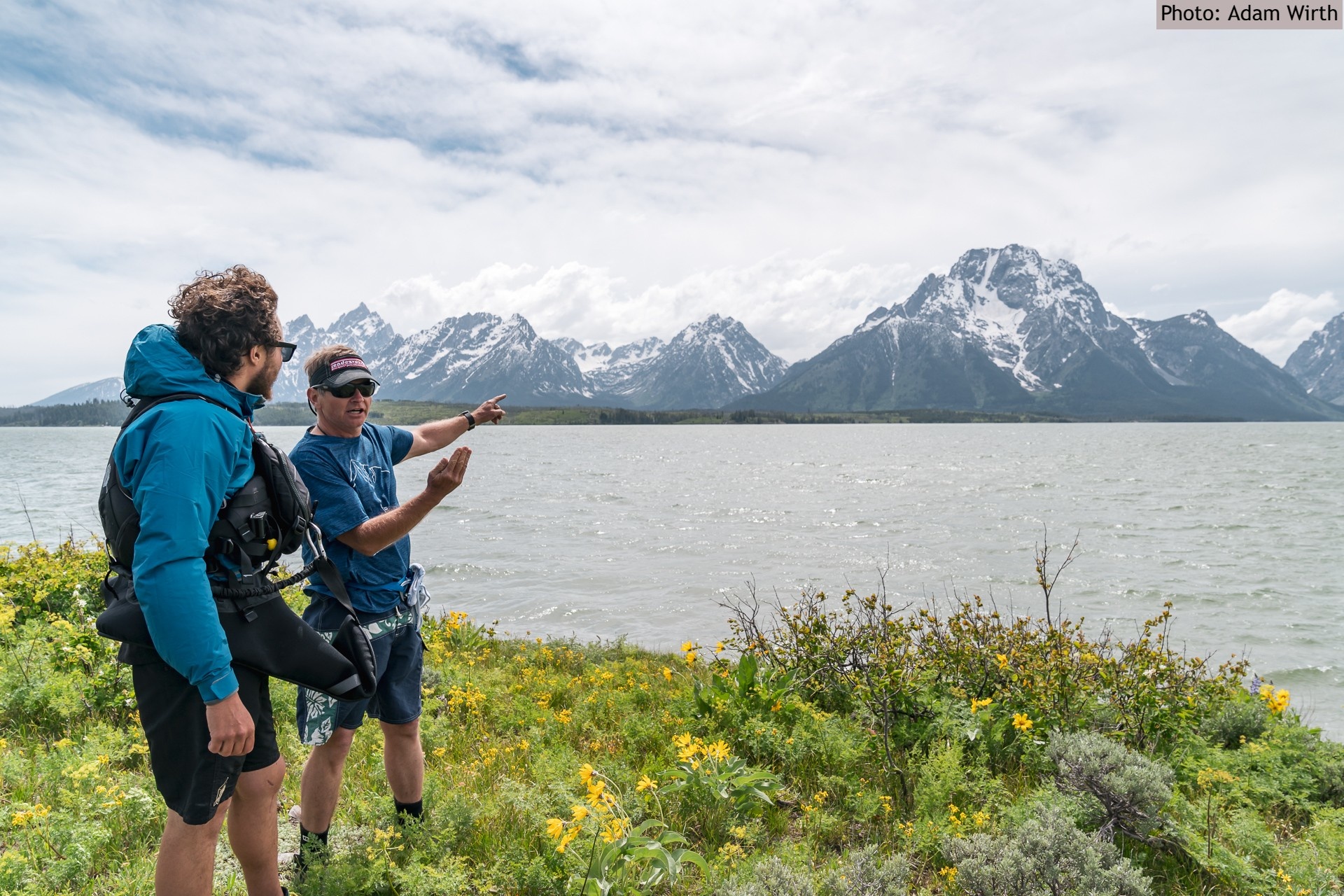 While this is an active adventure there will be ample chill time at camp for fishing, stand up paddle boarding, or simply relaxing and taking in the mesmerizing mountain views that never get old. Each evening will include a campfire presentation about Grand Teton National Park, other highlights of the Greater Yellowstone, and fantastic stargazing under Wyoming's clear skies. This trip also includes a meet and greet event at Rendezvous River Sports the evening before your departure, transportation to and from Jackson Lake and the Snake River, a re-usable Camelbak water bottle and special interpretive activities just for kids. Sleep kits (sleeping bags and pads) and single tents are available for a small additional fee and meals to begin and end with lunches on the first and last days. While nearly all dietary restrictions can be accommodated -there may be a small additional fee for specific supplemental menus.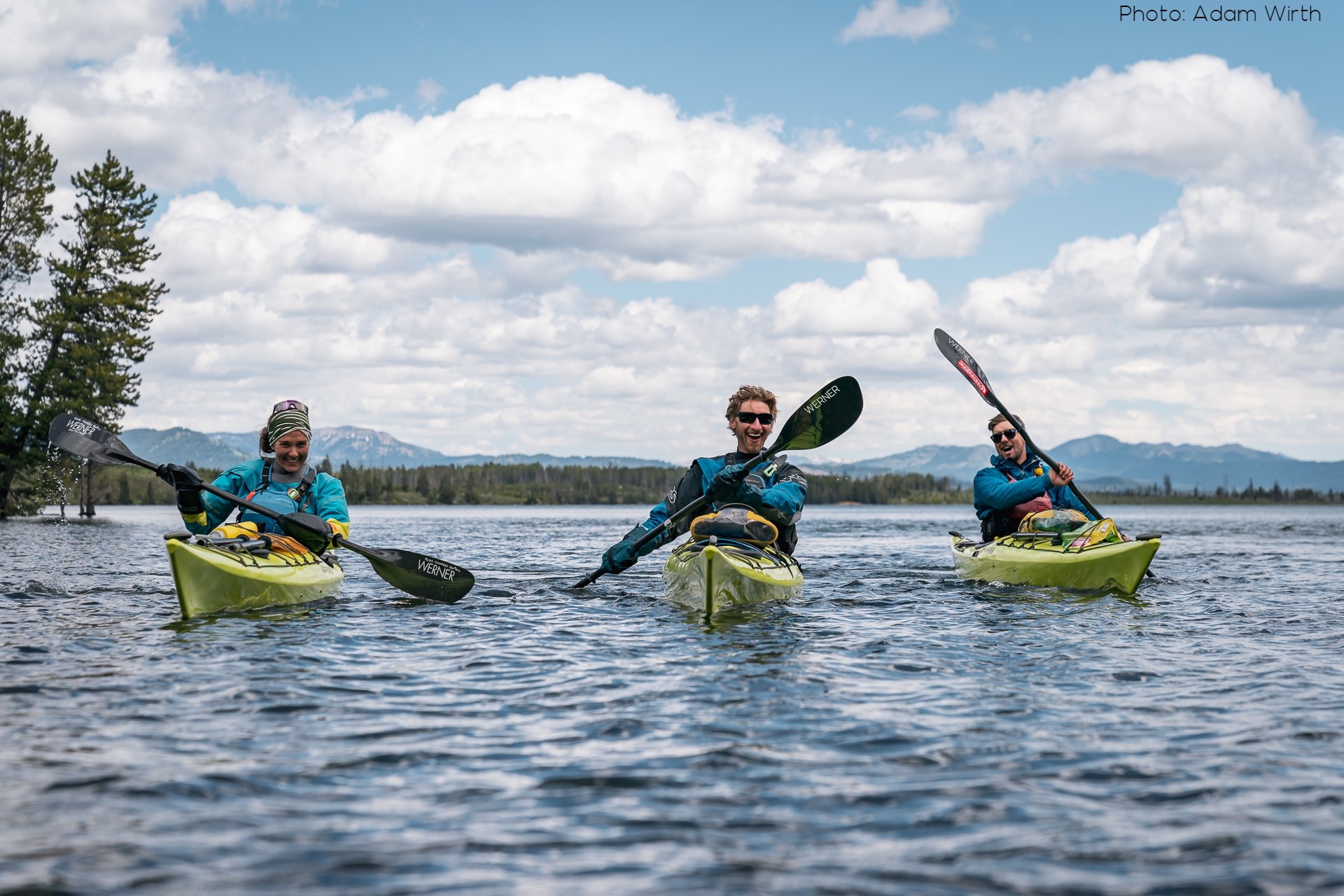 3-Day Group Trips
DATES 2021 - June 21-23 (Full), June 25-27, June 28-30 (Full)
July 9-11, July 19-21
August 6-8, 16-18, 20-22
September 10-12
 4-Day Group Trips w/REI Adventures
DATES 2021 - June 14-17
July 1-4, July 5-8, July 12-15, July 15-18, July 26-29 July 29-August 1
August 2-5, August 9-12, August 12-15, August 23-26, August 26-30
September 2-5
Explore the wonders of Grand Teton National Park. Spend 3 or 4 days with our highly trained staff and friends as you paddle around Jackson Lake and finish with a beautiful float down the Wild and Scenic Snake River. To help with social distancing, group sizes will generally be limited to 8 people per group - we can exceed this number for families or traveling groups.  
BOOK NOW!
3 Day Group trip rates $999 for Adults/$899 Youth 12 and under. 
4 Day Group trips offered through REI Adventures $1389 Per person. 
Private Trips
Enjoy the beauty of Grand Teton National Park with your family or your own private group.  These trips will be customized for you. You have the ability to pick custom dates and length of your trip based on limited availability. Spend your days kayaking on Jackson Lake and enjoying a private camp at night and then conclude your trip with a scenic or whitewater trip on the Snake River. You may do motor support and have a motor rig help with your gear or be fully self-sufficient in your kayaks with a self-support trip. 
| | | | | |
| --- | --- | --- | --- | --- |
| Private Kayak/Raft w/motor support  | 2-day  |  3-day  | 4-day  | 1-day+ |
| 4-6 guests/person  | $945 | $1,290 | $1,550 | $785 |
| 7-8 guests/person | $785  | $1,100 | $1,450 | $655 |
| 9-12 guests/person ($100 off for Youth) | $680  | $1,020  |  $1,389 | $550 |
| See a sample Itinerary |   | |   | |
| | | | |
| --- | --- | --- | --- |
| Private Kayak/Raft self support              | 2-day  |  3-day  | 4-day  |
|   |   |   |   |
| 3-5 people/person    |   $800  |  $1,100  | $1,300 |
| 6-9 people/person  |  $685  |  $999  |  $1,080 |
| 10-12 people/person ($100 off for Youth)  | $615 | $895 | $970 |
| See a sample Itinerary |   | |   |
Jackson Hole Kayak School is an authorized concessioner of Grand Teton National Park,
and a permittee of the Bridger-Teton National Forest and an equal opportunity provider

Rendezvous River Sports is a leader in stewardship of the waterways of the Greater Yellowstone and we are continually striving to achieve environmental sustainability with our business practices.  
Click the links below to find out how you can make a difference.